A nor'easter barreled into Connecticut Wednesday night, and with snow falling 1-2 inches per hour for at least part of the night and flakes still expected to fall in the morning, drivers should expect a messy commute Thursday.
The snow moved in from the southwest and as of 10 p.m. snow was coming down heavy across the state.
See the growing list of school closures and remote learning changes here.
A Winter Storm Warning is in effect for the entire state through Thursday afternoon.
The governor on Wednesday afternoon directed Connecticut's Severe Cold Weather Protocol to be activated from 3 p.m. on Wednesday through noon Friday.
The protocol sets up a system for state agencies and municipalities to coordinate with United Way 2-1-1 and shelters and people in need of shelter or transportation to a shelter can call 211.
TRAFFIC AND TRANSPORTATION
Gov. Ned Lamont on Wednesday asked that those who do not need to be out on the roads stay home. State officials also announced a tractor-trailer and tandem trailer ban on all limited access highways in the state from 9 p.m. Wednesday to 9 a.m. Thursday. A travel advisory is in effect for all other vehicles.
CT Transit has suspended services overnight and in the early hours Thursday due to the storm. CTfastrak, and CTtransit local and express buses will not run until noon on Thursday.
Metro-North shut down services early on Wednesday in anticipation of the storm.
Metro-North: Metro-North Railroad will be implementing an early shutdown and they are advising customers not to make unnecessary travel. If you must travel, check mta.info for the latest service updates and use extreme caution while navigating the system, especially on outdoor platforms and stairs.
They anticipate running the regular schedule tomorrow, but depending on the severity of conditions, there might be some train cancellations, especially tomorrow morning.
STATE OFFICES CLOSED THURSDAY
State offices will be closed for all non-essential employees on Thursday with all Level 2 state employees who can telework being asked to do that while other Level 2 employees who cannot perform their jobs by telework being told not to report to work.
"After consulting with the state's emergency management team, we have decided to direct all Level 2 state employees who have been physically reporting to work during this pandemic to stay home out of an abundance of caution as road conditions are expected to severely deteriorate Thursday due to the winter storm," Lamont said in a statement. "I strongly encourage private sector employees consider enacting similar policies for their employees, as road conditions will be rough during the day."
"If you're on a road, you're on a hill, you spin out, you slow down, that can stop a snowplow, that can create traffic, that can take a guy off the battlefield when we need them working around the clock," Lamont said at a press conference Tuseday.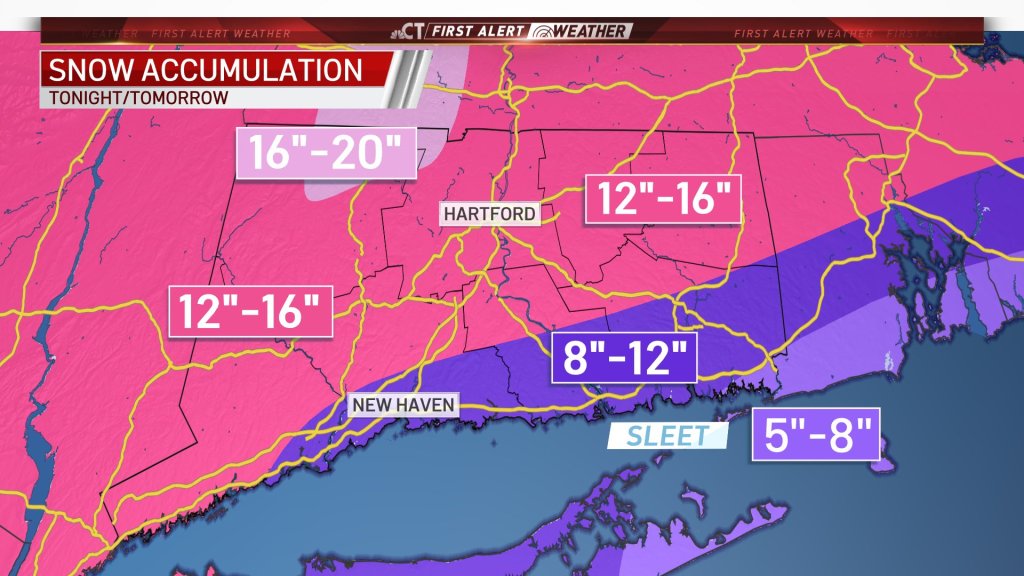 All Hartford HealthCare COVID-19 drive-through test sites will be closed on Thursday due to the storm. Patients who need to be tested should visit any of the nine test locations on Wednesday or Friday. For a list of test locations and hours of operation, visit HartfordHealthCare.org/testing.
Trinity Health of New England announced their testing sites at Johnson Memorial Hospital, Saint Francis Hospital and Saint Mary's Hospital will be closed on Thursday because of the weather. For a list of Trinity Health of New England testing sites, click here or call 203-709-6848.
Yale New Haven Health also announced the closure of its testing sites on Thursday, including all drive-up and walk-up locations across the state and at Mohegan Sun. Patients will scheduled testing appoints for Thursday will be contacted and asked to reschedule. All sites are expected to reopen on Friday. For a complete list of YNNHS testing sites, click here.
In addition, all Community Health Center COVID-19 testing sites will be closed and are expected to resume regular hours starting Friday at 8:30 a.m. For CHC testing information, click here.
FIRST ALERT: Snow Storm Hour by Hour Timing & Impacts
Snowfall accumulations of 8 to 16 inches are expected for most of the state, with localized areas in northwest Connecticut that could receive up to 20 inches. The higher accumulations will occur where the stronger bands set up and less snowfall where and if any dry slots develop. Southeastern Connecticut could also see a mix with sleet and rain which could keep final snow totals lower there, more in the range for 5 to 12 inches.
In West Hartford, the town's public works director, John Phillips, said between the rate of snowfall expected and the fact that three of their drivers are in quarantine for possible COVID-19 exposure, it could take some time to clear the roads on Thursday. He said residents should stay home since it could take several hours to clear the streets.
"We don't have a deep bench in a lot of ways where I can just put somebody else in that truck and plow," said Phillips. "People should expect delays. It's not a normal winter for DOT or any public works who is dealing with Covid cases and having absenteeism."
Stories from NBCLX
LX, or Local X stands, for the exponential possibilities of storytelling in our communities.
Timing the Storm
Take a look at some of the timing on First Alert Future Radar.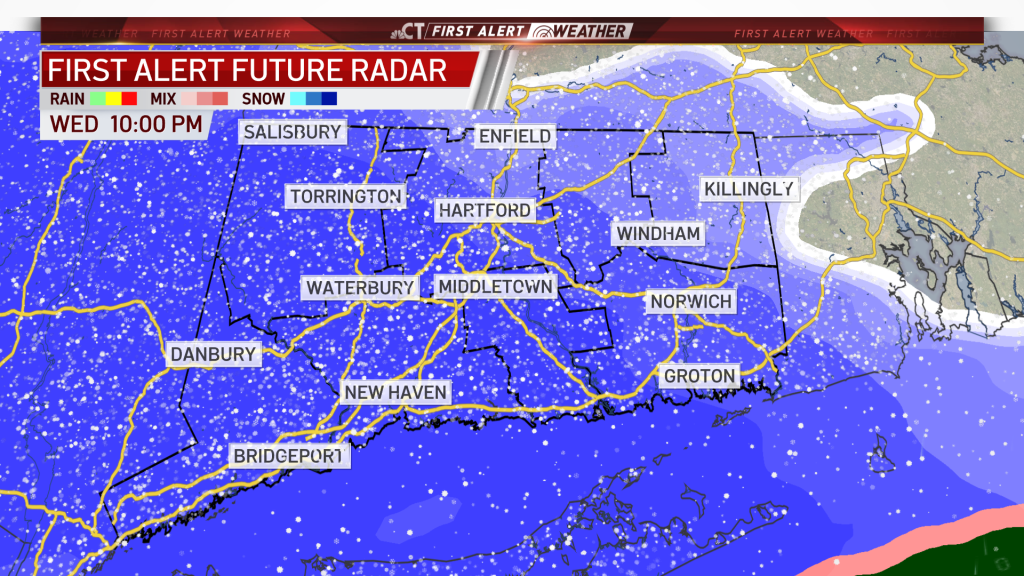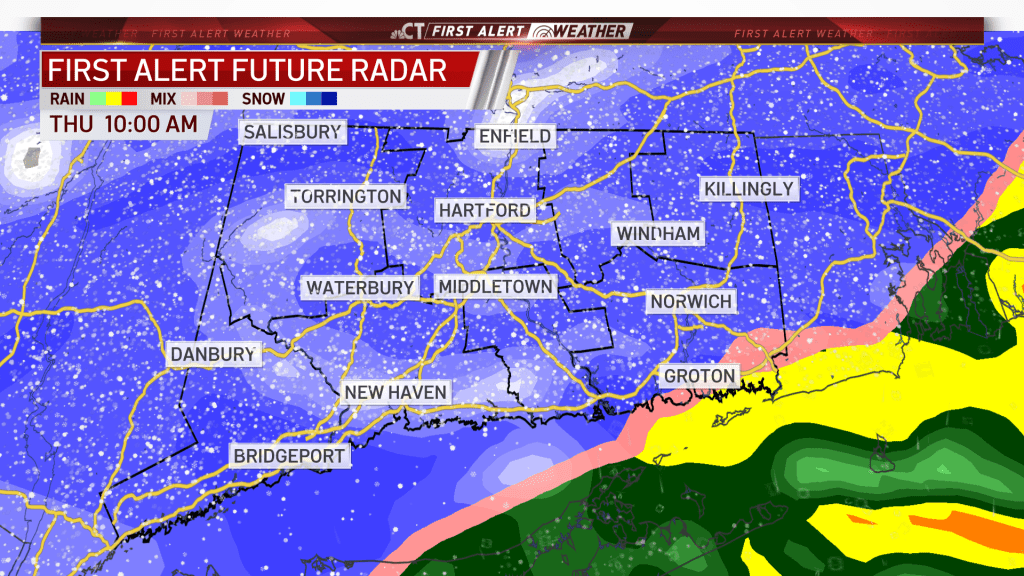 Stay with the NBC Connecticut First Alert Weather team for updates.