After a weekend that featured gray skies and cooler temperatures, there are changes on the way as the new week begins.
High pressure will bring increased amounts of sunshine beginning on Monday afternoon. With the increased sun, a warmer temperature set up will bring highs back into the 70s.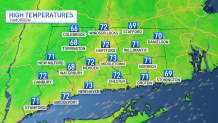 The average high temperature heading into next week should be in the middle 60s. The forecast is set to bring high temperatures well into the middle to upper 70s.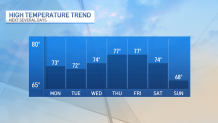 Little in the way of rain is expected during the week ahead with the next chance for showers arriving by next weekend.