Heat advisories have been issued for the weekend as temperatures will soar into the 90s this weekend.
The heat cranks up on Saturday with temperatures climbing well into the 90s. With the humidity, it will feel anywhere from 95 to 100 degrees away from the shoreline.
We will see more of the same for Sunday with temperatures reaching the mid-90s. It will feel like 95 to 100 degrees once again.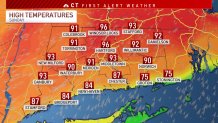 We will return to cooler, more seasonable temperatures on Monday.