NBC Connecticut meteorologists are forecasting bright and warm temperatures today with a slight mixing with puffy clouds.
Highs will be around 80 today and slightly cooler at the shore.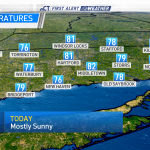 Tomorrow and Thursday will feature temperatures near 90!
A few isolated thunderstorms are possible over the weekend. Highs will be in the 80s.
Next weekend will be warm, in the 80s, with a few thundershowers around.