A stationary front will continue to bring scattered rain showers and areas of drizzle to the state overnight and into Monday morning.
The heaviest rain shower activity will likely occur between midnight and 6 a.m. with heavy downpours expected in parts of the state.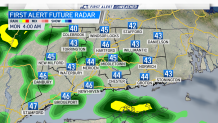 Monday will feature primarily cloudy skies with a few isolated showers possible, especially during the late afternoon and evening.
We need the rain. We are 2 to 2.5 inches below average for year to date rainfall. We expect under .25 for most from this round of showers. Some towns in north/northeast parts of the state may see little to no rain out of this system.
The rest of the week looks to be cooler with more clouds and a couple of shower chances. The best rain chance at this time appears to be on Thursday and Friday.