The final weekend of winter started with seasonable temperatures, but Sunday will bring temperatures that are colder than average.
The average high temperatures for this time of year is near 50 degrees. We were close to that temperature on Saturday.
Colder air is bringing temperatures more than 10 degrees below average for Sunday.
Sunday will feature wind along with the colder air. Wind chill values or the "feels like" temperature will remain in the 20s for most of the day. Some of the hill towns will see wind chills holding in the upper teens.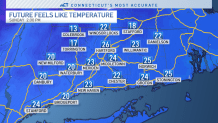 The colder air will not stick around very long. High temperatures are expected to rebound quickly close to 50 degrees by Monday, which is the first day of spring.