Wednesday Weather Blog
Temperatures average is 49 degrees this time of year for a high, with a low is 29.
Tuesday was a stunner! Blue skies, sunshine, passing clouds and a developing breeze. Pretty ideal for mid-March. Wednesday brings more clouds but still with the mild temps.
Clouds remain overnight and into the day Thursday, too.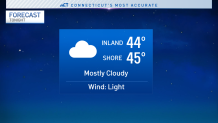 As we go through Thursday, there is a rising chance of showers during the afternoon and going into the wee hours of Friday.
It'll be mild again Thursday with highs in the mid-50s to mid-60s.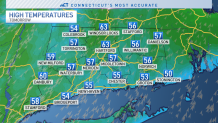 Friday looks cloudy with a low rain chance.
A better chance of rain is likely on Saturday. We can't rule out the possibility of some wintry weather inland.
Now that spring is here, we're gaining daylight like no other time of year. Eventually the amount of additional daylight will decrease but in the next few months, we'll add a couple of daylight hours.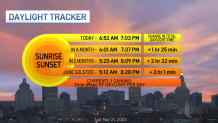 ---