Tuesday Weather Blog
The holiday weekend brought spectacular weather across Connecticut and a few more sunny days are ahead of us.
One issue for today will be a plume of smoke over the North Atlantic Ocean moving west toward Connecticut. A large wildfire in Nova Scotia is burning and that smoke is expected to move over the state Tuesday. Unlike the smoke from the Alberta wildfires this will be lower to the ground and may result in degraded air quality and you may be able to smell it! This morning the imagery we get from NOAA is not showing a huge area of smoke, instead a smaller, less dense area of smoke over Cape Cod. This bodes well for us as we will look for some haze or a milky look to the sky this afternoon and evening.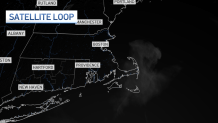 Temperatures this afternoon will be in the 60s at the shoreline with an onshore wind while temperatures inland will be in the 70s.
Later in the week temperatures will warm rapidly. In fact, highs will be in the 90s Thursday and Friday. A thunderstorm is possible Friday night as a cold front advances from the northwest.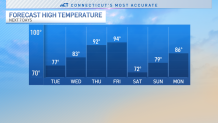 Enjoy the week!