Temperatures Saturday were on the cool side, only climbing into the middle to upper 60s for much of the state.
Even cooler weather was seen in northwestern Connecticut, where temperatures struggled to rise out of the upper 50s. We had mostly cloudy skies with a breezy northwest wind.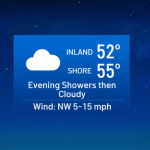 Showers are expected tonight. We are not expecting strong storms like on Friday afternoon. Some spring showers swing through the state tonight with areas of moderate, or even heavy, rainfall.
The weather will remain cool for Sunday with warmer weather on tap for Monday.
You can get the latest forecast anytime here.
Weather Stories