Snow will overspread the state after midnight before it quickly transitions to plain rain for most of the state. Hill towns will experience the snow for a bit longer and could see higher snowfall accumulations.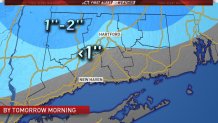 A winter weather advisory has been issued for northern Connecticut ahead of the wintry mess.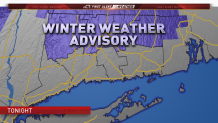 Snow will transition to a cold rain tomorrow morning before temperatures rise into the middle to upper 40s by afternoon.
Temperatures will get much colder for Valentine's Day with high temperatures in the upper 20s and low 30s.