Three tornadoes likely touched down in Connecticut on Saturday as severe weather moved through the state.
Radar indicated lofted tornado debris from three storms including one in Branford and Guilford, one in Plainfield and Sterling, and another in Cheshire, according to NBC Connecticut Chief Meteorologist Ryan Hanrahan.
This is known as tornado debris signature and means tornadoes likely touched down.
Since records began in 1950, Connecticut has never had tornadoes this late in the season.
The National Weather Service did not issue a tornado warning with this system and they have not verified if a tornado touched down in any of the three locations.
NWS officials will be investigating damage Sunday to determine the path, length, and strength of any tornadoes.
The storm also brought powerful winds. Meterologist Ryan Hanrahan says a gust of over 80 mph happened at Ledge Light.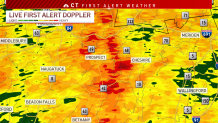 A tornado warning was issued for parts of Windham County as the storm moved out, but it has since expired. The storm quickly made its way into Rhode Island.
Severe Thunderstorm Warnings that were issued for Hartford, Tolland and Litchfield counties earlier on Saturday have all also expired.