Our First Alert Meteorologists are tracking an active weather pattern for the first full week of January.
A quick-hitting round of light snow showers early Monday morning left a coating in some areas, including in Torrington.
While not everyone was impacted, some towns had a coating during the morning drive.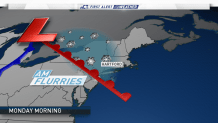 Light Snow Falls in Parts of Connecticut
Our next chance for a few flurries or light scattered showers arrives Tuesday night into Wednesday morning, though the storm looks to stay well to our south and any impacts would be very minimal.