Valentine's Day is Tuesday, February 14, which means you have a little more than a week to find the perfect gift for your sweetheart.
Gifts are optional, though, as this holiday is all about romance and whimsy and fun.
For the lovers, the classic Valentine's Day staples of roses, chocolates and perfume made the list. For the friends, there are matching friendship bracelets and monogrammed coin purses. For the parents gifting to kids, a DIY cookie kit is the perfect little treat.
We've curated a list of 20 Valentine's Day gift ideas that we hope will capture their hearts.
Here are our editor's picks. NBC does not have any relationship with these sellers and items are sold by the retailer, not by NBC.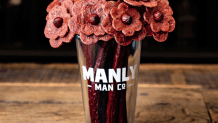 For a unique, playful gift for the meat lover in your life.
This 8-stem "bouquet" comes in a Manly Man pint glass vase and is packaged in a stylish gift box.
You can choose from original, teriyaki, hot or mixed flavors.
---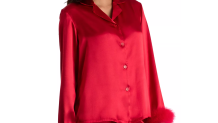 This satin pajama set from Linea Donatella, trimmed with Marabou feathers will make every day feel luxurious.
Choose from crimson red, black, ivory, ice blue or powder pink for sophisticated nights in with your sweetheart.
---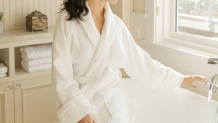 ---
The iconic Four Seasons bathrobe comes in unisex sizing so you can treat your Valentine as well as yourself.
You'll both enjoy lounging around at home in this 100% velour jacquard cotton bathrobe with a streamlined tailored fit and double belt loop for added comfort and style.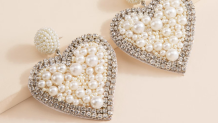 Pearls and diamonds never go out of style.
The Olivia Puffy Heart Pearl Drop Earrings from Francesca's are the perfect fantasy jewelry with a cubic zirconia lining and nickel and lead-free materials.
Plus, for $15, the price can't be beat!
---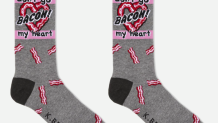 ---
For the guy who enjoys a good novelty sock peeping out under his trousers, you can't go wrong with these crew socks by K. Bell.
Their punny "Don't go bacon my heart" saying will put a smile on his face every time he looks down at his shoes.
For under $10, this is the perfect little gift for the man in your life.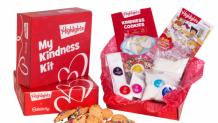 ---
The Highlights Magazine that many of us grew up with has teamed up with Baketivity for this sweet set.
You'll get everything you need to make 12-15 heart-shaped, glazed sprinkle cookies. All you need to add is a half cup of butter and an egg for the perfect activity to celebrate love day with your kids.
While your cookies are baking in the oven, you can read the 24-page Highlights Mini Mag together about the values of kindness and family. After all, that's what sharing this holiday with kids is really about.
Who wouldn't enjoy some heart-shaped waffles for breakfast?
This cute little waffle maker makes four 4" waffles. It features a ready indicator light to take the guesswork out of the equation for those that aren't too confident in the kitchen.
It also has a PFOA-free nonstick coating to make clean-up a breeze.
Use the promo code HOME to get the sale price of $10.79
---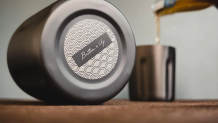 Now you and your hunny can enjoy your whiskey at the perfect temperature whether you're at home or in the great outdoors.
These flasks are made of premium-grade stainless steel and include a soft wool-felt carrying case for travel. You can even customize the bottom for an extra-personal touch.
Bonus tip: Would make a great copper anniversary gift.
Use code AFlaskToLove for 15% off.
---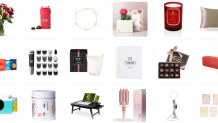 Snappy gifts is revolutionizing gift-giving.
Whether you've waited til the last minute, are indecisive, or aren't sure what your recipient would actually like, this new gifting platform solves all of these problems.
All you have to do is select the budget that you have in mind -- you can choose from $25, $50, $75 or $100 and input the recipient's email address.
They'll then get to choose from a selection of perfectly curated gifts for Valentine's Day. The experience is even better than receiving a traditional gift card.
---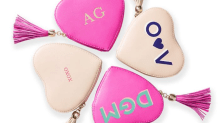 This heart-shaped coin purse is perfectly on-brand for Valentine's day.
Choose from blush beige or orchid pink. You can add a foil-debossed monogram, initials or an xoxo for an additional $12.50.
---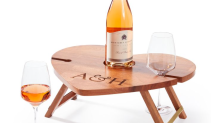 Just picture the romantic evenings you'll enjoy in your backyard with this mini wine picnic table.
Its handcrafted from fair trade certified solid arjun wood with a food-safe, natural oil-based finish and features collapsible legs for easy setup and breakdown. It still has plenty of space for snacks and built-in grooves for holding a wine bottle and glasses in place.
Add a laser-engraved monogram of you and your sweetheart's initials for an additional $12.50.
---
The "anti-perfume" perfume from Death & Co. is great for people who think they don't like perfume, or who are overwhelmed by commercial fragrances made with synthetic ingredients.
These gender-inclusive scents are botanical perfumes inspired by Death & Co's bars in New York, Denver, and Los Angeles.
As people become more conscious of the things they put on their bodies, it's good to know that each scent is made from 100 percent natural ingredients.
---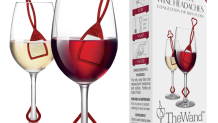 Thanks to "The Wand," they can finally enjoy wine again as it promises no more headaches this Valentine's Day.
You just stir your glass of wine with the wand to remove both histamines and sulfites. It also claims to enhance the taste of your wine.
The phoenix rose gold starter kit & the wand red 10-pack valentine's bundle is currently on sale for 40% off.
---
What mom doesn't enjoy a matching moment?
A gift from this adorable pink and blue hearts collection by Kyte Baby is the perfect gift for all your little love bugs.
They have everything from bibs, bows, swaddles, pajama sets, dresses and matching mom tees.
Everything is made with bamboo, a buttery soft, hypoallergenic fabric.
---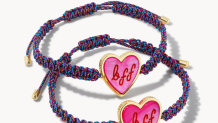 Valentine's Day doesn't have to be all about romance. It can be about friendship too.
The relationship you have with your best friend is one that's worth celebrating.
Go old school with friendship bracelets but elevate them with this set of hot pink mother-of-pearl and gold braided bracelets by Kendra Scott.
It's also a gift for you since you get to keep the other bracelet!
---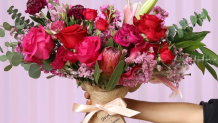 We'd be remiss not to include flowers on this list.
This exquisite bouquet from Farmgirl Flowers will brighten up anyone's day.
The size is not too small and not too big but just right. It's wrapped in burlap and contains seasonal farm fresh flowers with lots of reds and pinks for a festive Valentine's look.
---
Anyone with a sweet tooth will have fun crafting their very own candy jewelry.
They can create necklaces, bracelets, headbands, rings, and keychains with this kit by cricket's candy creations.
---
Whether your Valentine is near or far, they're sure to enjoy this raspberry chocolate chip assorted dozen box delivered straight to their door with nationwide shipping.
They'll receive 3 Red Velvet, 3 Raspberry Chocolate Chip, 3 Vanilla and 3 Heartthrob Red Velvet Sprinkle cupcakes.
Great for sharing with family or sending in to your child's school for an extra-sweet Valentine's day treat.
---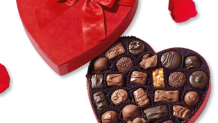 You can't go wrong with the most classic of Valentine's Day gifts -- a heart-shaped box of chocolates.
This 1lb assortment of milk and dark chocolate includes exclusive See's Candies chocolates like the Milk California Brittle, Dark Normandie, Milk Bordeaux and more.
---
For kids and kids at heart. This sweet pair of lovebirds evokes the feeling of the holiday with pink hearts and flowers and a big red heart to symbolize their love.
Best for ages 8 and up, this LEGO building kit is an affordable, heartfelt gift.