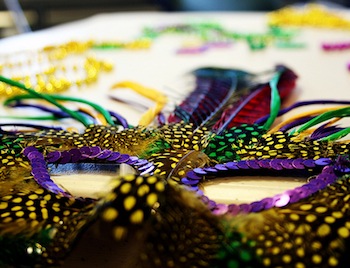 Windsor: Nat Hayden's is serving Jambalaya, Shrimp and Grits, and hush puppees on Fat Tuesday. Plus, every Friday during Lent, Nat Hayden's will be serving a special fish dinner.
New Haven: The New Haven Free Public Library is hosting an evening of food and drink, live entertainment, and a silent auction for Mardi Gras on Feb. 28. Starting at 5:30 P.M., guests should come dressed in cocktail attire to enjoy tastings from some of the area's most popular restaurants and participate in a NOLA style parade.
Hartford: An all-day-long party will take place at Black Eyed Sally's starting from 11:30 A.M. on Feb. 28 and wrapping up at 12:30 A.M. on March 1. An all-you-can-eat Southern Feast will be served for lunch for $13.95 and a dinner will be served from 6 P.M. to 11 P.M. In between lunch and dinner, you can enjoy a special happy hour from 4 P.M. to 6 P.M. There will be stilt walkers, Mardi Gras beads, face painting, and more.
Hosted by the Hartford Yard Goats, Liquid Lounge at the Connecticut Science Center will hold a 21+ event for Mardi Gras on Friday, March 3 from 6 P.M. to 10 P.M. There will be four floors of street style performances, including stilt walkers, magicians, and jugglers. Prizes will be awarded to the best Mardi Gras outfits.
Danbury: Connecticut Young Professionals is putting on a Mardi Gras Happy Hour celebration at Black Angus Grill. Come enjoy free food and drink specials from 6 P.M. to 8 P.M.
Unionville: Cure Restaurant will be serving up New Orleans inspired food and drink all day long on Feb. 28. Special cocktails include Hurricanes, Sazeracs, Cajun Bloody Marys and Daiquiris.
Wallingford: Aljoya Thornton Place will be celebrating Fat Tuesday from 4:15 P.M. to 5:15 P.M. with live entertainment. The King Cake will perform New Orleans Rhythm & Blues inspired music.