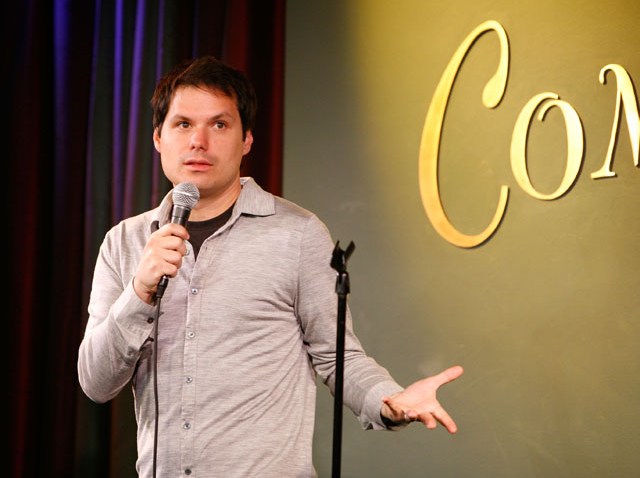 BACK IN BLACK: No, it's not AC/DC or Lewis Black. Comedian/Actor/Writer/Director Michael Ian Black is making another stop in Connecticut tonight. Since he starred in the cult hit "Wet Hot American Summer" and the NBC comedy "Ed," he's been a favorite on Comedy Central and VH1 for his unique brand of humor. Starting tonight, he's appearing on stage at Comix at Foxwoods. Between tonight's 8 p.m. show and Saturday, you've got five chances to see Mr. Ian Black (or is it just Mr. Black? That's much more Reservoir Dogsish). Tickets for the shows are $25 to $45.
JUXTAPOSITION IN THE CAPITOL CITY: Musical worlds collide tonight in Hartford as a pair of concerts provide entertainment in very different genres. If you head to the Bushnell, you'll be treated to some quality classical music. The Hartford Symphony, with guest conductor Carolyn Kuan, will perform Tchaikovsky's Passionate Piano Concerto. Tickets for the 7:30 p.m. show are $33 to $66. But, if you make your way down to the Webster, things will be a lot louder. Canadian Metalcore band Abandon All Ships will perform. We're 99.99 percent sure that this show will have much more profanity in it than the show at the Bushnell. Tickets for the 6:30 p.m. show are $10.

VALENTINE'S DAY: No, not the holiday. Head to New Haven tonight to see Shirley Valentine. And Shirley Valentine isn't a blues singer (though it sounds like she could be). It's a play on stage at the Long Wharf Theater that tells the story of Shirley, a lonely, middle-aged housewife, who actually finds herself talking to the walls, wondering what went wrong. But when her best friend wins a trip for two to Greece, Shirley begins to see the world, and herself, in an entirely different light. The show opens tonight at 8 p.m. and runs through Jan. 2. Click here for ticket info.