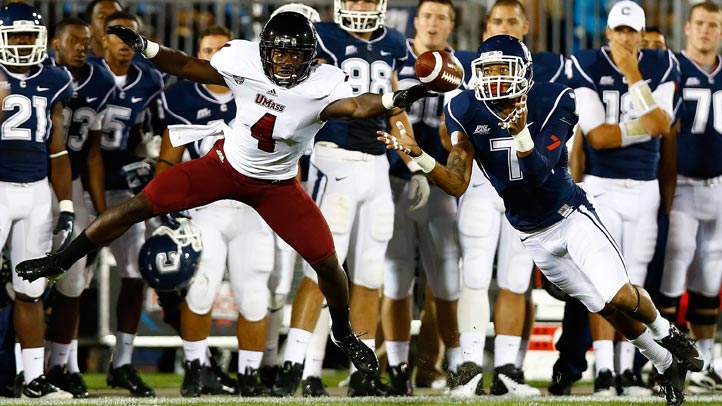 Former Huskies linebacker Sio Moore set the tone earlier in the week at the NFL Combine and on Tuesday, the last day for coaches, scouts and front-office types to take in the dog-and-pony show that was more than 300 college players running, jumping and lifting in shorts and t-shirts, Dwayne Gratz and Blidi Wreh-Wilson had their turns.

And the cornerbacks didn't disappoint. Gratz got things started Monday when he benched 225 pounds 22 times, which tied for tops among all cornerbacks in attendance. He then followed that up with a 4.47 40 time. And while some NFL personnel people like to say that the combine doesn't have much bearing on the evaluation process (that comes from looking at college game film, attending pro days and the individual team workouts that take place in the weeks leading up to the NFL draft), it doesn't hurt to have a good showing in Indy. Just ask former Notre Dame linebacker Manti Te'o, who ran a sluggish 4.82 40, which, along with his horrid performance against Alabama in the national title game, led to more questions than answers.

Meanwhile, Wreh-Wilson tied for fourth in the broad jump among cornerbacks (10'8") and busted out a 4.53 40, a solid time for a tall, lanky cornerback who should excel in press coverage because of his size.

Then there's Trevardo Williams, who had to pull out of the Senior Bowl because of an injury. All the defensive end (who will almost certainly have to transition to outside linebacker at the next level) did was run the 40 in 4.57 and put up 225 pounds 30 times (good for fifth-best among linebackers).

All four players will be drafted, and if the next two months go as well as the Senior Bowl and combine, they'll all go higher than anyone expected in early January.

Next up: UConn's pro day, which is scheduled for March 27.