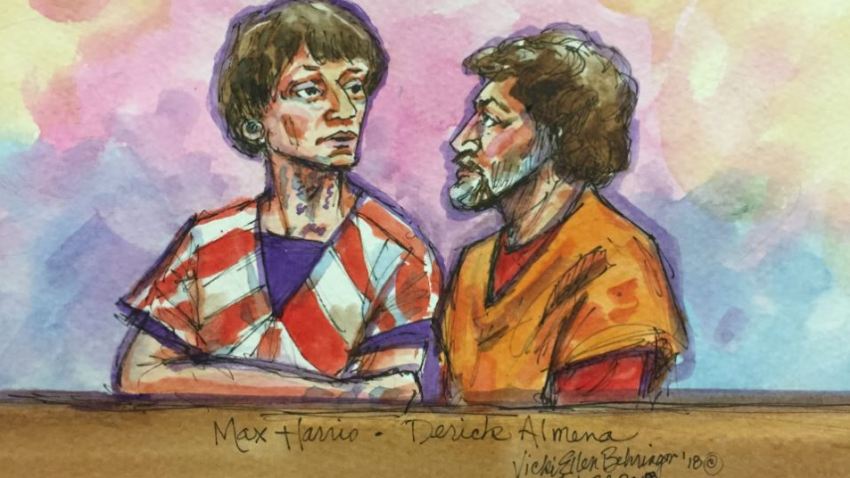 There are many, many Halloween events to choose from this month.
Bethany
Amity Road Horror is open at 667 Amity Road in Bethany on Thursdays, from 7 p.m. to 10 p.m. and weekends from 7 p.m. to 11 p.m., on Oct. 18-20, and Oct. 25-27. Tickets are $15 for adults and $10 kids under 13. Note: Closed on Friday night, Oct. 19 because of weather.
Brooklyn
Take a pumpkin tour at Creamery Brook Bison, 19 Purvis Road, on Oct. 27, 28 at 2 p.m.
A covered wagon ride will take you by the bison. On the return trip, stop at the pumpkin patch where you will pick you own prize pumpkin. Cost is $10 per person.
Head to the Nathan Hale Homestead on Friday and Saturday, Oct. 26 and Oct. 27 for Things That Go Bump in the Night, where you can take a special candlelight tour, room-by-room, all the way up to the attic. Hear the traditional, long standing Homestead ghost stories and the Hale Guide Staff's unpublished and unexplained stories of things that have happened to them. Prepare to be spooked while surrounded by the very history that spawned the stories. Refreshments include beer, wine, cider and doughnuts made on the hearth. Two tours will be offered each evening, the first begins at 6 p.m. and the second at 8 p.m. Admission is $25 per person, or $20 each for CTL members. The Nathan Hale Homestead is located at 2299 South Street in Coventry.
Cromwell
The businesses on Historic Main Street in Cromwell are hosting Halloween on Main Street, a Halloween Celebration on Sunday, Oct. 28, from 2 p.m. to 4 p.m. Trick or Treating will begin on the corner of Main and West streets and will include the businesses on both sides of Main Street. Cromwell Police will be on hand to insure the safe passage of children and parents during this two-hour event. Weather permitting there will be petting ponies, face painting and pumpkin painting along with other surprises. For more information, call the First Selectman's office at 860-632-3419 or Town Planner Stuart Popper at 860-632-3422 or drop into any of the businesses on Historic Main Street for up-to-date information.

Danbury
CityCenter Danbury's "Halloween on the Green" will be held on Oct. 27, from 2 p.m. to 4 p.m. Out of 600 expected costumed children and their families, the judges will be looking for Halloween panache and a little something special. Goodie bags for children are being stuffed NOW, a DJ will be playing, there'll be face painting, arts & crafts, and more. Come scary or sweet! It's just a part of DisH Living (Downtown is Happening!).
East Haven
Get your scare on the rails by participating in Haunted Isle 2012. Hop on a trolley that will bring you to a gate that leads to a wooden path, where you will follow trails that bring you by blood-splattered humans, sadistic clowns and "terrifying wayfarers with their grotesque antics and insistence on wearing white after Labor Day," according to the event Web site. Haunted Isle happens from 7 p.m. to 10 p.m. on Friday and Saturday nights, until Oct. 27. Tickets are $10 at the door. An express ticket that will put you to the head of the line costs $20 in person or $15 online. Select the date and time you plan to arrive.
Shore Line Trolley Museum
The museum will stay open Friday night, and Saturday during the day for the Pumpkin Patch and in the evening for the Haunted Isle, but will close on Sunday to allow time for the volunteer staff to move trolleys out of harm's way. The museum's campaign "Elevating the Collection," includes having two new barns above the 500-year flood line to protect its collection of nearly 100 vintage trolleys from flooding.
Farmington
Vicious vampires, wicked witches and spooky skeletons rule the nights and days during the Farmington Valley Visitors Association's Fifth Annual Haunted Miniature Golf Benefit on Oct. 25-28. The 18-hole course of Halloween fun awaits with a 12-foot-high Jack-O-Lantern. Wander through a Haunted Graveyard, visit Dracula's Fountain and the Haunted Pirate's Tavern, and try to catch a mysterious moving doughnut at the 18th hole. Halloween treats and a special door prize will be available at the ice cream parlor. Face painting and photos with "Garish the Ghoul" are available. Farmington Miniature Golf and Ice Cream Parlor is located at 1048 Farmington Ave. in Farmington. Times are Thursdays and Fridays, from 4 p.m. to 9 p.m., Saturdays from 11 a.m. to 9 p.m., and Sundays, 11 a.m. to 8 p.m. Admission is $10 per person. Advance ticket sales are not required and all credit cards are accepted. Proceeds benefit the Farmington Valley Visitors Association.
Guilford
Head to Henry Whitfield State Museum, 248 Old Whitfield Street, for Holidaze: The Real Story of Halloween, Thanksgiving and Christmas, a special exhibit about the origins and myths of the holidays, through Friday, Dec. 21. On Saturday, Oct, 27, enjoy Halloween Hysterics at Henry's, flashlight tours, scavenger hunts, craft activities, special displays on the Whitfield/Salem Witch Trial connection and the cemeteries under the Guilford Green and tours of the holiday exhibit Holidaze. For information, call 203-453-2457 or visit www.cultureandtourism.org. The museum is open Wednesday to Sunday, 10 a.m. to 4:30 p.m. The last tickets are sold at 4 p.m.
Mohegan Sun
Halloween Costume Party, Saturday, Oct. 27 at 10 p.m., Tuscany Terrace. DJ Jena Red hosts and will call on adults to dress up in their best, most creative and hilarious Halloween costumes. Prizes given for funniest, scariest, hottest and best overall costumes.

Adult Trick-Or-Treat, Saturday, Oct. 27, starting at 6 p.m. Guests can get a "trick-or-treat" bag at the Tuscany Terrace and then proceed to five lounges, each featuring a Barcardi cocktail. Prizes at each stop. Participants include Todd English's Tuscany, VISTA Lounge, Jimmy Buffet's Margaritaville, SolToro Tequilla Grill, Big Bubba's BBQ and Ballo Italian Restaurant & Social Club.

Moonlight Masquerade at Vista Lounge, Saturday, Oct. 27 at 9 p.m., VISTA Lounge at Wombi Rock.
VISTA Lounge makes masquerades modern during the Moonlight Masquerade Party. Complimentary masks will be distributed at the door and DJ Jason Mae sets the sound for a spectacular evening.

Welcome to the Jungle Party, Ultra 88 Nightclub, Saturday, Oct. 27 at 9 p.m. Guests are asked to dress up in their best jungle-themed costume for this unique Halloween party in Ultra 88.

Rocky Horror Picture Show screening, The Cabaret Theatre. Guests can dress up and enjoy the ageless classic at 11:45 p.m. Admission is free and seating will be determined on a first-come, first-served basis.

Mystic
Mystic Aquarium is getting into the Halloween Spirit for Fall-O-Ween Fest on Oct. 27 and 28.
On Oct. 20 and 27, artists from Maniac Pumpkin Carvers, www.maniacpumpkincarvers.com. a New York-based studio specializing in elaborate pumpkin art, will create intricate, marine-themed carvings. Founder Marc Evan will carve at the aquarium on Oct. 27. Evan's partner Chris Soria is carving on Oct. 20. Fall-O-Ween events happen between 11 a.m. and 4 p.m. General admission to Mystic Acquarium is $29 for adults, $26 for adults 60 and over, $21 for children ages 3 to 17 and children ages 2 and under are free.
Sea lions will perform a "Wizard of Cods" Halloween-themed show. Zach Ivins Magic provides family-friendly entertainment and there will be underwater pumpkin carvers, scavenger hunts, crafts and costume contests. A full schedule of events can be found at www.mysticaquarium.org.
Mystic Aquarium is located at 55 Coogan Boulevard in Mystic.
Somers
Corn Maze & Pumpkin Patch, Scantic Valley Farm, 327 Ninth District Road. Get lost in the 8-acre corn maze with almost three miles of trails or a Kiddie Maze. Enjoy a barnyard viewing area and plenty of fun activities in the play area for kids. Visit the pumplin patch and take a relaxing hay ride through the scenic valley. Saturday and Sunday, 11 a.m. to dusk, until Oct, 28. Admission is $12; $8 for children, 5-12, and free for children under 4. For infomation, call (860) 749-3286.
Southington

Spooky Kingdom, put on by the Burke family, includes more than 15 motion-activated animatronic hand crafted themed attractions. They promise you will not be disappointed. Guests are welcome to visit Spooky Kingdom at 14 Lovley Drive in the Plantsville section of Southington on Oct. 27, 28, and 31, from 7 p.m. until 9 p.m. The event is free but donations are accepted and the proceeds will benefit the Alzheimer's Association of Connecticut.

Wallingford
Trail of Terror, 60 North Plains Highway, Wallingford, runs Friday, Saturday and Sunday through Oct. 28. Opens at 7 p.m. Regular admission is $20; $18 group speed pass. For information, call 1-888-695-0888. Note: Closed on Friday night, Oct. 19 because of weather.
Westport
The annual children's Halloween parade will be held on Monday, Oct. 29. Children and parents are asked to meet in front of the Westport/Weston Family Y on the corner of the Post Road and Main Street at 3 p.m. The parade will go up Main Street, along Avery Drive and to Town Hall. Entertainment, refreshments and a small gift will be provided on Veterans Green at 3:45 p.m. This event is for children, 7 and under. There will not be parking on Main Street between 2 p.m. and 4 p.m. while this event is taking place. In the event of rain, all festivities will be moved into the Westport Town Hall beginning at 3 p.m.
Wethersfield
The annual haunted house at the Eleanor Buck Wolf Nature Center, 156 Prospect St., provides spooky and educational fun for children of all ages. The theme is Science Gone Wild. See what the scientists have in store for you! The haunted house will be open Friday, Oct. 26, from 6 p.m. to 9 p.m.; Saturday, Oct. 27 from 1 p.m. 8 p.m.; and Sunday, Oct. 28, from 1 p.m. to 6 p.m. Admission is $4 per person; games cost 50 cents each. Proceeds benefit the Friends of the Eleanor Buck Wolf Nature Center. To volunteer for the event, contact the Nature Center at 860-529-3075 or naturecenter@wethersfieldct.com.