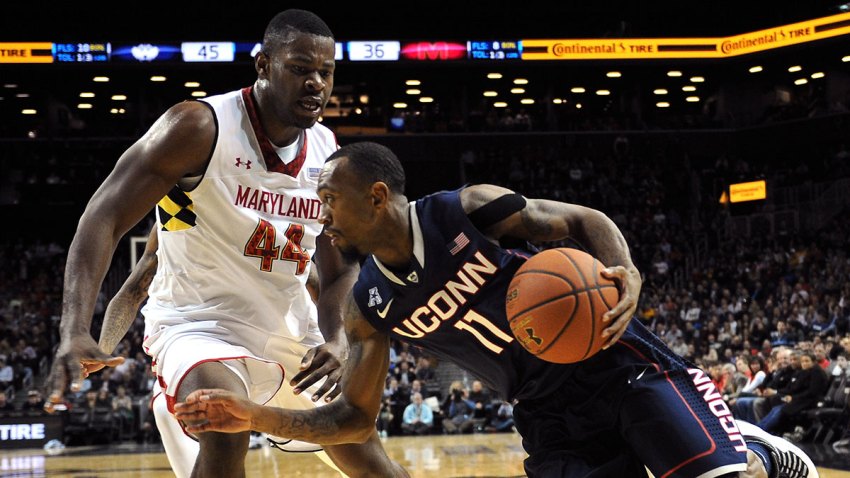 UConn played four games in 10 days and came out the other side with three wins, the most recent a 51-45 victory over Cincinnati.

The recent grind hasn't been lost on coach Kevin Ollie.

"I tip my hat to these guys, this run they've been on the last 10 days," he told the Hartford Courant's Dom Amore. "Four games in 10 days, two midweek games where we get home at 2:30 [a.m.] and then those guys are in class at 8 o'clock. Then they got to travel again. That's an amazing job, and that should be said. They're student-athletes, too."

"It's definitely tough," junior guard Ryan Boatright conceded, " but that's part of being an athlete, that's part of being a student-athlete, you've got to get up and go to class, and be mature, be an adult, know when to get your rest and get off your legs." The Huskies are now 23-6 (11-5 in the AAC) with two regular-season games to go, but unlike a year ago when NCAA sanctions kept them from the postseason, they'll be competing in the AAC Tournament next week and the NCAA Tournament later this month.

Senior point guard Shabazz Napier echoed Boatright in that the schedule can take its toll.

"It's been soooo tough," said the sociology major. "I'm thankful to my professors for understanding, sometimes I may get to class late, or not participate as much as I usually do. It's tough. Sometimes I don't know how I do it. I get home 2:30 in the morning, got a class at 8 in the morning. Sometimes I don't understand how I get up."

But Napier isn't making excuses, either. "You're given these cards for a reason," he continued, "Whether you wake yourself up or not, you just have to deal with it, you have to understand, we're in this position for a reason. And take advantage of it."

And that's exactly what the Huskies have been doing during the last week and a half. Now they just need to keep it up as the postseason approaches.