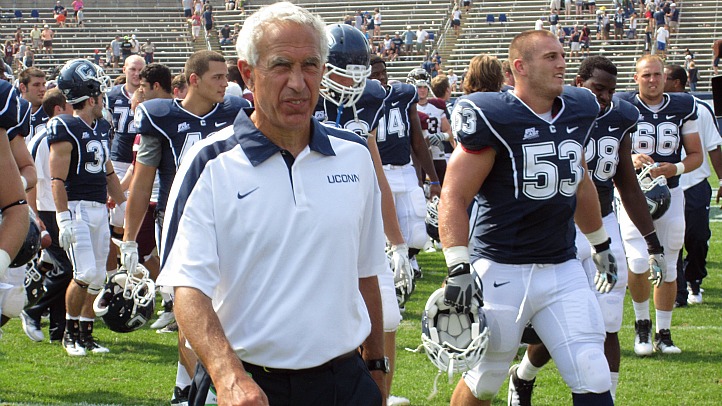 Continuing the theme we've heard all week, coach Paul Pasqualoni isn't focused on Randy Edsall, the Maryland coach who left UConn following the 2010 season to head to the ACC, but is instead worried about preparing his team for their third game of the season.

"To me, motivation for this game is all about preparation," Pasqualoni said during his weekly press conference (via the Hartford Courant. "Every [game] is very precious ... for me the urgency is, let's get ready to play. If you're distracted, I don't know how you're functioning at a high level. We're just going to try and have a good week and have a consistent week of practice."

This echoes Pasqualoni's sentiments from earlier in the week when he said that this game isn't about UConn vs. Maryland's coach, but the Huskies' players vs. the Terps' players.

"That stuff is all stuff you guys like to write about," Pasqualoni said. "It gives you some material but there's so much to get ready for and the game requires so much focus and attention that if we fall into that trap of getting involved in that type of emotional stuff for a game it's going to make us, I think, less competitive and less prepared. So I'm going to try and explain to these guys and I think they're in this mode, 'hey, the most important thing -- it's University of Connecticut players are playing the University of Maryland players.

So that's that. By the way, you know how this isn't a rivalry despite the media hype surrounding it? Both coaches spoke glowingly of their opponent.

"Randy is a very, very good football coach, very detailed, very exact," Pasqualoni said. "I think he's going to do a very good job with the Maryland program."

"I'm deeply indebted to the University of Connecticut and the state of Connecticut for the opportunity they gave me to be head coach," Edsall countered. "I have nothing by great memories and great times ... it's a special place for me and my family."