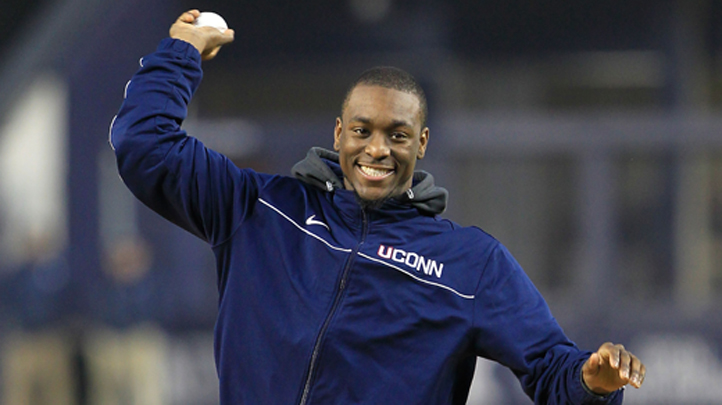 Kemba Walker grew up blocks away from Yankee Stadium but had never been into the ballpark, until Wednesday night.
Growing up in the Bronx, he dreamed of playing in the NBA, not of pitching at Yankee
Stadium. But that's what he did on Wednesday when he threw out the first pitch of the Yankees v. Orioles game.
After throwing out the first ball, Derek Jeter shook hands with Kemba and the rest of the Huskies.
All went pretty smoothly except for one moment. Baltimore native Roscoe Smith showed up on the field with his teammates in an Orioles cap. Yankees manager Joe Girardi, quickly replaced it with a Yankees cap.
"It's been a crazy week since the championship, but it's been a lot of fun," Walker told the New York Daily News. "It's a weird feeling. It's almost like a movie. Everything is just going perfect."
Walker has become a celebrity in Connecticut over the last three years for his contributions to UConn basketball, but he became a national celebrity when he led the Huskies to an improbable national championship win.
Now, he's on the verge of becoming a bigger star. The UConn junior declared this week for the NBA draft.
So ends a whirlwind two weeks after winning the national championship, declaring for the NBA draft and now pitching at a Major League ballpark.
The Yankees won. 7-4.