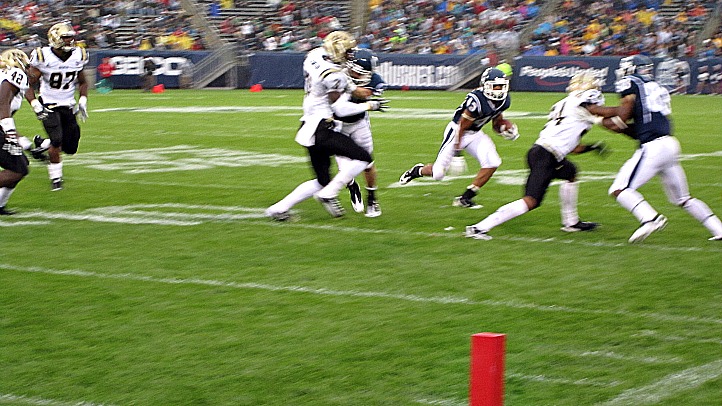 We're midway through the Huskies' football season and, well, things could be better. They could be worse, too, but not by much, at least when looking at UConn's record. But despite the 2-4 start, there have been positives to come out of the first six weeks of the season.

The Huskies have settled on a quarterback, Johnny McEntee, who might not be capable of leading a furious late-game comeback but he has progressed enough to manage a small fourth-quarter lead, or even orchestrate a game-winning drive.

ESPN.com's Big East blog takes it a step further, passing out midseason awards, which isn't something you typically equate with a team winning one-third of their games. Either way, here goes:

Offensive MVP: RB Lyle McCombs. The running game is struggling, but McCombs still is second in the Big East in rushing, averaging 95.8 yards a game. He has three 100-yard games this season, but he is only averaging 4 yards a carry.

Defensive MVP: DT Kendall Reyes. We knew Reyes would be a load up front, and so far he has four sacks and a league-leading 10 tackles for loss on a run defense that is No. 2 in the Big East. Linebacker Sio Moore also has been solid with eight tackles for loss and 3.5 sacks.

It's hard to disagree with either choice, particularly on offense. The second biggest concern after who would play quarterback was how the Huskies would replace Jordan Todman's production. McCombs got off to a fast start, stalled midway through the first half of the season as teams focused on stopping the run, and then, as McEntee improved, so too did the rushing attack.

On defense, Reyes has been nothing short of dominant, and much of that was with defensive end Jesse Joseph out of the lineup.

And while recognition is always nice, Reyes clearly has other things on his mind beyond personal achievements. Specifically: having the Huskies play more consistently over the next two months.

"We're facing some adversity," Reyes said, according to the Hartford Courant. "It's an issue and we need to work on it right now. We're just going to keep on working, emphasizing staying together, things like that. You know, if we're down a touchdown or two, OK, let's stick together and work through it. I think if we just keep that in mind, if we stay together, we can overcome some of the things that have hurt us.

"You can see some guys are a little bit discouraged; that's just because we expect so much out of our group and our record doesn't show how good we are."

It's worth noting (as the Courant's Desmond Conner dutifully does) that it wasn't long ago (12 months, to be precise) that the Huskies started 2-4 before finishing with a 5-0 flourish to earn a BCS bowl bid. So while a repeat of the 2010 season is unlikely, nobody thought that team had much of a chance, either.