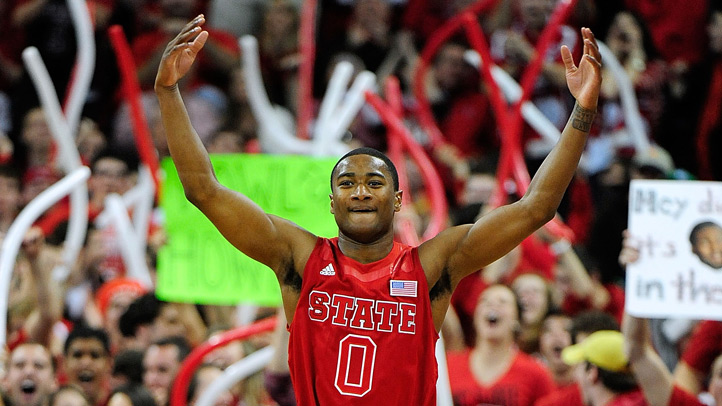 Last week, NC State freshman Rodney Purvis announced that he would transfer. That immediately prompted thoughts of Purvis making his way to Storrs since he admitted that the Huskies were No. 2 on his list during the recruiting process.

"I gotta keep it real, it was super close," Purvis said in April 2012. "When I came back home from visiting there I said, 'I'm going to UConn.' Then I talked to my mom and she said to wait it out a little longer. The more I thought about it, I knew that it was NC State. They were just in my heart. Coach Gottfried did a great job recruiting me and every time I would shoot around at State it felt right. I remember when I was at UConn after we played pickup, I went back to the gym alone just to shoot around to see what feeling I got and it wasn't the same. I didn't sense that it was the right place for me."

Well, on Friday, the Raleigh, North Carolina native made it official: he's headed to UConn, where he will have to sit out the 2013-14 season before suiting up for coach Kevin Ollie.

"They have a great tradition of producing NBA guards and that's where I want to be someday," he said via the News & Observer … ""I really trust coach Ollie. He's a player's coach. He's the type of guy whose office is always open and you can talk to him."

As for "State feeling right," those feelings changed over the course of Purvis' freshman season. He described his relationship with coach Mark Gottfried as "not the best," adding "Honestly, I don't think the question was 'How do I fit in?' It was obvious to me after a few practices and games that I didn't. …

"I didn't see myself playing up to the level that I know I was capable of," Purvis continued. "People could see that, it's not like it was hidden."

So what does Purvis hope to accomplish at UConn? "I want to be able to create and have some freedom." But to do so also means leaving home for the first time.

"It's a part of growing up," he said. "I've been home too long. This will give me a chance to learn more about myself as a person."