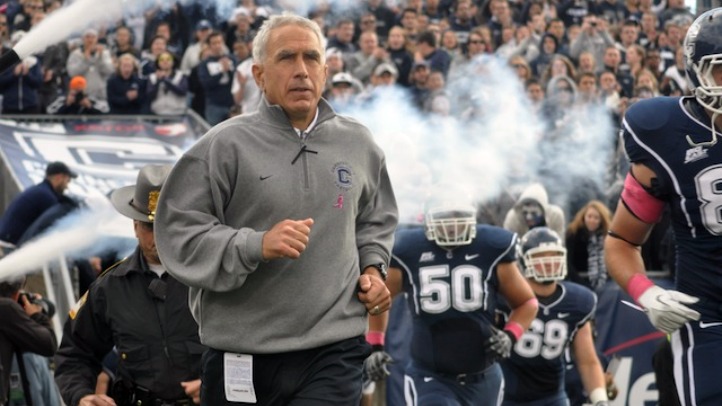 And so it begins…

Two-time Connecticut Gatorade player of the year, quarterback Casey Cochran has officially enrolled at UConn. He, along with four other players, joined the program at the start of the spring semester. The list (via TheDay.com):

Center Kyle Bockeloh (Houston, Tex.), offensive guard Drew Ghio (Bristol Eastern), quarterback Chandler Whitmer (Newnan, Ga.) and tailback Joseph Williams (Allentown, Pa.).

The biggest news, of course, is that there will be competition for the quarterback job. In addition to Cochran, there's junior college transfer Chandler Whitmer. They will join Johnny McEntee, Scott McCummings and Michael Nebrich for snaps this spring and summer. Two weeks ago we wrote about Whitmer's decision to come to Storrs.

"I had been through the recruiting process before and I kind of knew what to look for going through it a second time," Whitmer said on Wednesday, according to Conner. "Overall, UConn just offered the most and the best of the things needed to further my career and education. …

"I feel like, with the new coaches they have and that style of offense they're bringing in, not only is it pass-friendly but it's a good offense to keep a defense off balance," he said. "We can come in and change that past of not having quarterbacks work out. That's what I plan on doing out there, turning the program around a little bit and getting it to where people want it to be."

And last week, we talked about the offense's newfound depth not only at quarterback but possibly at wide receiver, too.

"As you know, competition breeds the best situations," receivers coach Matt Cersosimo told the Hartford Courant's Desmond Conner at the time. "Now we've really spring-boarded ourselves into winter workouts and into fall camp with the competition at the position."

Cersosimo was responding to former Clemson wide receiver Bryce McNeal's decision to transfer to UConn.

"We're very excited. You've got kids that gained experience, whether in a starting role as Nick Williams or in a back-up role as Tebucky [Jones Jr.], Kamal [Abrams] and Geremy [Davis], but now you add in Mike Smith [academically ineligible in 2011], who was a starter for us, you add [Boston College transfer] Shakim [Phillips], who has played and started at this level … now you're adding a little more experience in terms of playing at the highest level. Yeah, it creates a lot of excitement heading into the winter workouts."

It's progress, which is what you want from a team with a new head coach and, if we're being honest, looking to go from a middling Division I outfit to a top-tier program. Plus, it could be worse: this could be the University of Maryland.