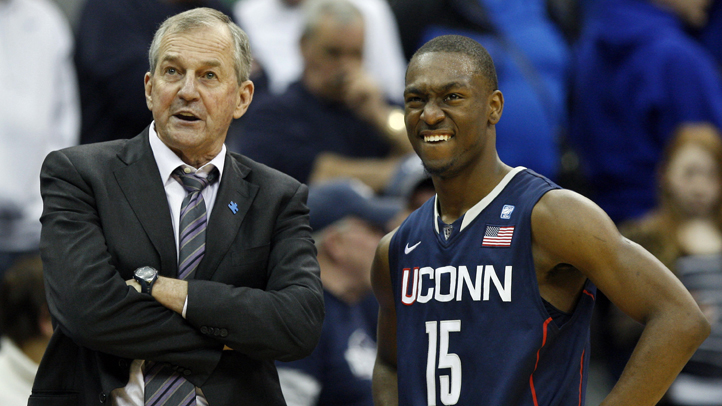 Head coach Jim Calhoun has said on previous occasions that a Big East tournament double bye would be too much of a layoff for his team. Turns out, that's not an issue: you have to have one of the conference's four best records for that, something the Huskies can't manage with just two regular-season games left. And given Calhoun's concerns, that's probably a good thing.

But a first-round tourney bye could be exactly what UConn needs to recharge for a postseason run. And Sunday's victory at Cincinnati went a long way in guaranteeing just that.

Thanks to the UConn Blog doing the heavy lifting, we knew that a win against the Bearcats would mean the Huskies would be 9-7 in the conference, good for seventh place. The top eight teams get first-round byes.

Of course, there are two conference games remaining and a lot can happen between now and the regular-season finale this weekend. First up: the Huskies travel to West Virginia Wednesday. The Mountaineers are also 9-7 in the Big East, but currently rank 10th due to tiebreakers. Obviously, that could change with a win against UConn.

If the Huskies are able to escape Morgantown with a victory, they will host Notre Dame (12-4 in the conference), a team still in the hunt for the Big East regular season title, just one game behind 13-3 Pittsburgh.

So, yes, there is still much work to be done. But the Huskies are in much better shape today than they would have been if they had dropped Sunday's game against Cincinnati. But as it stands, UConn broke a two-game losing streak, have put a long week behind them, got their coach back, and are finally getting quality contributions from their young players. There are worse ways to head into March.