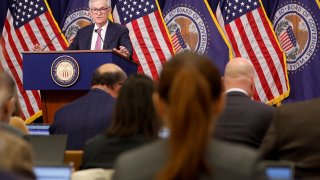 The Fed raised rates and sounded slightly more dovish.
Facebook parent Meta declared 2023 the "Year of Efficiency."
Oil giant Shell reported its biggest annual profit ever.
Here are the most important news items that investors need to start their trading day:
1. Some wiggle room
The Federal Reserve raised its benchmark rate by a quarter of a point Wednesday, as expected, but investors jumped on what they saw as slightly more dovish language from Chairman Jerome Powell. While he said it would be "premature" for the Fed to claim a victory over inflation, Powell said the "disinflationary process has started." He also said the economy could be in for a soft landing, after all: "My base case is that there will be positive growth this year." The three major indices all finished higher Wednesday. Now markets will turn their attention to what Meta reported Wednesday (see below) and a raft of major earnings Thursday: Amazon, Apple, Starbucks and other key names all report after the bell. Read live markets updates.
2. Meta's music to Wall Street's ears
We're far beyond "Move fast and break things." It's all about the "Year of Efficiency" at Mark Zuckerberg's Meta. After a rough 2022, the Facebook parent told Wall Street exactly what it wanted to hear as it reported earnings after the bell Wednesday. Zuckerberg said the company is "focused on becoming a stronger and more nimble organization." Meta also cut its estimated total expenses for 2023, while pledging to trim nonperforming or ultimately unimportant projects. The stock ripped about 20% higher in off-hours trading. Still, there are some lingering reasons for doubt, notably the company's continued dedication to its so-far-underwhelming metaverse business. Meta's Reality Labs lost $13.7 billion last year, and there are no plans to cut back as of now.
3. Shell's blowout year
Oil behemoth Shell on Thursday reported its biggest annual profit ever: $39.9 billion in 2022. That's more than double its earnings for 2021, and it's well ahead of its previous record of $28.4 billion in 2008. Sky-high energy prices, driven by supply concerns stemming from Russia's war in Ukraine, boosted the results. Shell is following similarly huge earnings reports from rivals ExxonMobil and Chevron. All told, Big Oil is expected to break annual profit records in total. That isn't sitting well with climate activists. "What we saw happening in 2022 is that the oil majors used the high oil prices and the energy crisis to convince investors that the energy crisis should eclipse the climate crisis — and that has caused a setback," Mark van Baal, founder of Dutch activist shareholder group Follow This, previously told CNBC.
4. Getting worse for Adani
One small U.S.-based short-seller has managed to create epic problems for India's Adani Group, a sprawling conglomerate whose businesses include energy generation, ports and food processing, among several others. Since Hindenburg Research, the short seller in question, published a report last week accusing of Adani of "brazen stock manipulation and accounting fraud scheme over the course of decades," the company has lost $100 billion in value. Adani, which is led by politically connected tycoon Gautam Adani, has called the accusations "nothing but a lie." Because of the chaos, however, Adani called off a $2.5 billion share offering, even though it had been fully subscribed.
5. Biden and McCarthy start talking
There's no deal over the debt ceiling yet, but President Joe Biden, a Democrat, and House Speaker Kevin McCarthy, a Republican, got the ball rolling Wednesday. Both sides expressed cautious optimism over the talks as they try to prevent the United States' first ever default on its debt, which could be catastrophic for the economy. "We have different perspectives. But we both laid out some of our vision of where we'd want to get to. And I believe, after laying them both out, I can see where we can find common ground," McCarthy told reporters. The Treasury Department, meanwhile, has taken steps to avoid default at least until early June.
– CNBC's Alex Harring, Jonathan Vanian, Sam Meredith, Ruxandra Iordache, Christina Wilkie and Emma Kinery contributed to this report.
— Follow broader market action like a pro on CNBC Pro.
Copyright CNBCs - CNBC