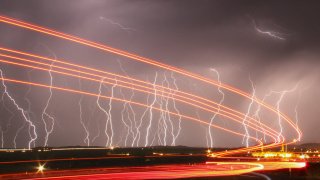 It's that time again! "Mad Money" host Jim Cramer rings the lightning round bell, which means he's giving his answers to callers' stock questions at rapid speed.
Oceaneering International Inc.: "It's right here. There are a lot of times when I look at these stocks and I think, 'Well, they have contracts, the contracts could go bad.' I think these guys are very good."
Tellurian Inc: "Here's what matters with Tellurian: their balance sheet. It's not great. They have to raise a lot more debt. But when they are finished, there will be ready customers."
Equitrans Midstream Corp: "It was down for multiple days, it yields [9%]. I'm worried about a 9% yielder. It makes me feel like it's not sustainable."
AT&T Inc: "Maybe for the long-term, there's something there. Short-term, no. Short-term, ["Mad Money"] is a family show, so I can't really go into it. It's just not right."
Lazard Ltd: "Jimmy Chill likes Lazard. I think that this is an opportunity, not a negative. I like it, I think it can do well."
Doximity Inc: "Doximity, I think is very inexpensive. ... Doximity's a high-growth stock, people don't like them. But one day they will."
Sign up now for the CNBC Investing Club to follow Jim Cramer's every move in the market.
Disclaimer
Questions for Cramer?
Call Cramer: 1-800-743-CNBC
Want to take a deep dive into Cramer's world? Hit him up!
Mad Money Twitter - Jim Cramer Twitter - Facebook - Instagram
Questions, comments, suggestions for the "Mad Money" website? madcap@cnbc.com
Copyright CNBC