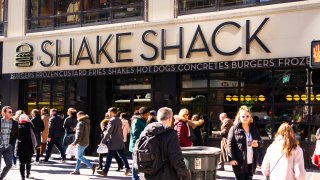 Shake Shack is no stranger to introducing limited edition menu items, but the burger chain's latest offering may be its most luxurious creation yet.
Starting Feb. 10, Shake Shack restaurants nationwide will be offering a trio of items made using white truffle: a beef burger, a mushroom burger and fries served with white truffle sauce.
The Danny Meyer-founded chain calls its latest specialty menu an effort to bring an ingredient traditionally found in fine dining restaurants to the masses.
"We thought it was something that nobody else could do in the way we could do it," Shake Shack chief marketing officer Jay Livingston tells CNBC Make It. "We're always trying to highlight great flavors and really unique ingredients, including ingredients that you couldn't find in a fast casual kind of environment."
Shake Shack's White Truffle menu
White Truffle Burger: Fontina cheeseburger, white truffle sauce, crispy sweet onions on a toasted potato bun (starts at $8.99)
White Truffle 'Shroom Burger: Crisp-fried Portobello mushroom filled with melted muenster and cheddar cheeses, white truffle sauce, shredded lettuce on a toasted potato bun (starts at $8.99)
Parmesan Fries with White Truffle Sauce: Crinkle cut fries with parmesan cheese and a side of white truffle sauce (starts at $4.69)
It's not Shake Shack's first experience with truffle — the restaurant had a limited edition black truffle menu in late 2021 — but it's the first time it has worked with white truffle, which Livingston said can cost nearly four time as as much as its black counterpart.
The company worked with luxury food importer Regalis Foods to come up with a way to incorporate white truffle into its menus without asking customers to break the bank and also avoiding the artificial flavors that cheaper truffle oils use.
"They found a way to turn it into a sauce with some olive oil in a way that was both really natural but also cost effective for our price point," Livingston says.
Shake Shack will offer the menu for about three months, though Livingston noted that availability will ultimately be decided by customer demand.
"The last time [we did truffle] it ran short quite a bit," he says. "So we never know what the demand will be, but we hope to have it up for about two and a half to three months."
Sign up now: Get smarter about your money and career with our weekly newsletter
Don't miss: Trader Joe's Customer Choice Awards: 8 most popular products of 2023
Copyright CNBCs - CNBC