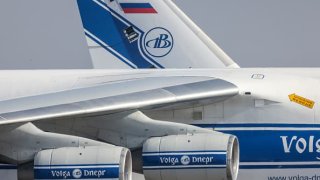 This has been CNBC's live blog tracking Monday's developments in Russia's attack on Ukraine. Follow the latest updates here.
Ukrainian and Russian officials wrapped up a critical round of talks Monday near the border with Belarus.
Officials from both countries said the sides could hold more negotiations amid Moscow's invasion of Ukraine.
Ukraine's armed forces continue to hold off Russian troops, defending and retaining control of key cities, and slowing Russia's advance on Kyiv.
Meanwhile, the central bank of Russia more than doubled its key interest rate on Monday, as the ruble plummeted after heavy sanctions were imposed on Moscow by the West.
Odds are stacked against Ukraine and Russia has the upper hand, says political analyst
Time is "not working on the Ukrainian side" as Russia has the upper hand in its war against the country, said Samuel Charap, a senior political scientist at Rand Corporation, a research firm. 
Only a fraction of Russian capabilities "have really been deployed," but it's clear that the Russians are now "regrouping," and the numbers are stacked against the Ukrainians, he told CNBC's "Streets Signs" on Tuesday.
"Unless there's a deal to have a cease-fire and some sort of settlement in the coming days, I'm quite concerned about this sort of massive column that's heading toward Kyiv," Charap said, referring to the Ukrainian capital.
Russia still has its sights set on Kyiv, despite tough Ukrainian resistance, according to a Pentagon official.
On Monday, Ukrainian and Russian officials wrapped up a critical round of cease-fire talks near the border with Belarus, with both countries open to more negotiations.
"The Russians have had a rough go in the beginning, but ultimately, they far outman and outgun the Ukrainians," Charap said.
— Sumathi Bala
Moscow keeps sights set on Kyiv, despite tough resistance
The Kremlin still wants its invasion troops to capture Kyiv, even as Russian forces continue running into stiff Ukrainian resistance, according to a senior Pentagon official who spoke on condition of anonymity.
"We expect that they're going to want to continue to move forward and try to encircle the city [Kyiv] in the coming days," the official said. "They are not there yet, that's not happening yet, but that appears to be what they're interested in doing."
Russian advances on the Ukrainian capital have slowed, but forces are roughly 25 kilometers (16 miles) outside the city, the source said. The official cautioned that distance is an estimate, and movements on the ground are changing.
Ukrainian defenders continue to hold major cities that have seen brutal fighting, including Kharkiv and Chernihiv, and they still maintain centralized command and control of their military units. The Ukrainians still possess "significant air and missile defense capabilities," the official said.
On Monday, Ukraine's Ministry of Foreign Affairs claimed that Russian invasion forces had so far lost 4,500 personnel, almost 200 tanks and almost 60 aircraft, half of them helicopters. CNBC could not verify those claims.
In the meantime, the Russians are "throwing a lot at the problem" in terms of missiles and other heavy weaponry, the U.S. official said.
"They're launching missiles, medium-range, short-range, cruise missiles," the official added. "They're using artillery, they're using rockets, manned aircraft, they've got infantry there."
— Ted Kemp
Putin is 'doubling down' on Ukraine, says strategic advisory firm
"It's early days, but it's pretty clear that Putin is not backing down. If anything, he seems to be doubling down," said Erik Brattberg of Albright Stonebridge Group.
He said Western countries will continue to support Ukraine militarily and financially as they realize the crisis is about the European security order and more broadly, international order.
"[But] it's very clear to everyone looking at this that NATO membership or EU membership for Ukraine is not on the table anytime soon," said Brattberg, senior vice president in ASG's Europe practice.
— Chelsea Ong
Putin made 'strategic mistake' and didn't anticipate people's resilience, says Ukrainian envoy
Kateryna Zelenko, the Ukrainian ambassador to Singapore, said Vladimir Putin made the "strategic mistake" of invading the country as he failed to anticipate the strong resilience of its people.
The Russian president underestimated the "commitment and determination of the people in Ukraine and their readiness to fight for their freedom for their territory, for their soil," she told CNBC's "Squawk Box Asia" on Tuesday.
Russia's attack on Ukraine has sparked fierce, widespread outrage and condemnation around the world, from global leaders, military experts and grassroots protesters alike.
Putin also did not foresee the growing resistance to the war inside Russia, Zelenko added.
There is already a "huge number of demonstrations" across the country and there is growing "understanding" within Moscow that "there cannot be any aggression and war against the neighboring country," she said.
Despite warnings from Russian authorities, thousands of protesters have taken to the streets in several cities, including St. Petersburg, in recent days against the war, NBC reported.
"Ukrainians all know what they are fighting for. I'm not really sure the thousands of Russian soldiers who crossed our border and came on our soil do," Zelenko said.
 — Sumathi Bala
International Ice Hockey Federation Suspends Russia and Belarus.
The International Ice Hockey Federation indefinitely suspended all Russian and Belarusian national teams and clubs from competition.
It also withdrew Russia as the host country for the 2023 IIHF World Junior Championship.
The actions have been initiated by the council to enable the IIHF to ensure the safety of its championships and all participating players, officials, and fans, the organization said in a press release.
Ukrainians flee the country with their pets
Ukrainian refugees are pouring into Poland, Slovakia, Romania and Hungary. Many left with only a bag and their pet.
Netflix says it will not carry Russian state-backed news
Streaming giant Netflix said it will not comply with Russian rules to carry news channels amid the escalating Russian invasion in Ukraine.
The company launched the service in Russia a year ago, and Russia's communications regulator required audiovisual services with more than 100,000 subscribers to distribute 20 free news and entertainment channels. The change was supposed to go into effect March 1.
"Given the current situation, we have no plans to add these channels to our service," a Netflix spokesperson told CNBC on Monday. The decision comes as a wave of Russian state-backed news broadcasts spread Russian propaganda justifying the war Moscow started in Ukraine last week.
— Jennifer Elias
U.S. to expel 12 employees of Russia's Mission to the U.N., alleging 'espionage activities'
The United States on Monday began the process of expelling a dozen Russian employees of Moscow's Mission to the United Nations in New York, alleging that the Russians posed as diplomats but were actually working as spies.
News of the expulsion was first made public by Russia's ambassador to the U.N. on Monday during an open Security Council meeting. The Russian envoy, Vasily Nebenzya, called it a "hostile step" by the United States and suggested the move was part of broader U.S. retaliation for Russia's unprovoked invasion of Ukraine.
The White House pushed back on this idea, however, saying the soon-to-be expelled Russians had been under investigation for months.
White House press secretary Jen Psaki said the probe revealed that the Russians "abused their privileges of residency in the United States by engaging in espionage activities that are adverse to our national security."
The idea of spies posing as diplomats is hardly new. In 2015, the FBI broke up a ring of Russian spies in New York, at least two of whom had official cover as employees of the Russian mission to the U.N.
--- Christina Wilkie
Nearly 75% of Russian forces once staged along Ukraine's borders have crossed into the country
Nearly 75% of Russian forces once staged along Ukraine's borders have now crossed into the country, a U.S. Defense official said.
The official, who spoke on the condition of anonymity in order to share new details from a Pentagon assessment, declined to comment on the position of the remaining Russian troops that were posted on Ukraine's borders.
Russian advances on Kyiv have slowed but forces are roughly 25 kilometers or 15 miles outside of Ukraine's capital, the person said. The official cautioned that this is an estimate and the movements on the ground are changing.
The Pentagon assesses that Russia still want to take Kyiv even though its military has met stiff Ukrainian resistance.
"We have every indication that they still want to take Kyiv, that they are advancing on the ground and trying to get closer," the official said.
The official said that the Pentagon cannot confirm reports that Belarussian troops are operating in Ukraine.
When asked about the slowed advance, the official said that logistics issues like "fuel and sustainment are unique challenges" for the Russians.
— Amanda Macias
Canada to ban Russian oil imports
Canadian Prime Minister Justin Trudeau said Monday that his administration will ban Russian crude oil imports in response to Russia's invasion of Ukraine.
"Today we are also announcing our intention to ban all imports of crude oil from Russia, an industry that has benefited President Putin and his oligarchs greatly," Trudeau said, according to a translation of his comments in French.
Canada is the first Western nation to officially target Russia's energy complex. The White House said Monday that it has not yet ruled out restrictions on U.S. purchases of oil and gas. But it has so far not sanctioned the industry directly.
Canada imported about $555 million worth of Russia crude oil in 2019, according to The Canadian Association of Petroleum Producers.
— Pippa Stevens
Meta says it's blocking Sputnik, RT access across EU
Meta said it would block access to RT and Sputnik, two major Russian-controlled media companies, across the EU in an attempt to battle misinformation.
"We have received requests from a number of Governments and the EU to take further steps in relation to Russian state controlled media," Meta VP of Global Affairs Nick Clegg said on Twitter. He added that the tech company will continue to work with governments on the matter, but gave little other detail.
Government officials have called on U.S. social media giants to start to block or at least curb misinformation after Russian forces invaded Ukraine.
YouTube said last week it would restrict access to RT and a number of other channels in Ukraine. Twitter will start labeling tweets that share links to Russian state-affiliated media websites, the company's head of site integrity, Yoel Roth, said Monday.
"Since the invasion, we've seen more than 45,000 tweets a day sharing links to Russian state-affiliated media outlets. While we've labeled the accounts of hundreds of global state media outlets for years, tweets sharing their content lacked visible context," Roth said.
—Jessica Bursztynsky
Polish train station becomes relief center for Ukrainians
CNBC's Steve Sedgwick reports from Przemyśl train station in Poland which has become a relief center for refugees traveling from Ukraine.
—Matt Clinch
Biden says Americans should not be worried about nuclear war
President Joe Biden on Monday answered a question about whether Americans should be worried about a nuclear war in Europe with a firm "No."
The one-word answer was Biden's most public response so far to the news this weekend that Russia had put its nuclear threat posture on high alert.
The Kremlin announcement came three days into Russia's unprovoked invasion of Ukraine, an attack that has made Russia the target of international condemnation and severe economic sanctions from Europe, the U.S. and allies.
Biden's response mirrored that of White House aides and U.S. diplomats, who have said both publicly and privately that the United States does not intend to respond to Russia's alert with an elevated alert of its own.
"At no point has Russia been under threat from NATO," White House press secretary Jen Psaki said on Sunday in response to the news of Russia's heightened alert. "We have the ability to defend ourselves."
— Christina Wilkie
EU announces new sanctions on Russian officials, including Putin spokesman Peskov
The European Union on Monday announced sanctions against more than two dozen Russians, including President Vladimir Putin's press secretary, in response to Russia's invasion of Ukraine.
The latest round of sanctions also targeted oil oligarchs, Kremlin officials, propagandists, military figures and bankers who have "a significant economic role in supporting Putin's regime, and benefit financially from the system," said the EU's foreign policy chief, Josep Borrell, in a press release.
"These sanctions will expose the wealth of Putin's elite. Those who enable the invasion of Ukraine will pay a price for their action," Borrell said.
Those alleged enablers include Putin spokesman Dmitry Peskov, who was targeted for his many statements defending Russia's military aggression against Ukraine, according to new legislation in the EU's Official Journal.
With the addition of Monday's sanctions on 26 Russians, and the Russian insurance company SOGAZ, the EU said it has now slapped restrictions on 680 individuals and 53 entities related to the conflict.
The EU unveiled sanctions on Putin himself and Russian Foreign Minister Sergey Lavrov last week.
On Sunday, European Commission President Ursula von der Leyen announced that the EU will for the first time fund the delivery of weapons to Ukraine. The 27-member union will also block Russian flights in its territory, ban Russian state-owned media outlets from its airwaves and slap new sanctions on Belarus over its collaboration with Russia, von der Leyen said.
— Kevin Breuninger
As Russia invades, Ukrainians take part in basic military training
Ukrainian citizens take part in a basic military training session on Thursday in Ivano-Frankivsk, Ukraine.
— Adam Jeffery
Russian oligarchs maneuver yachts as sanctions set to target property
Superyachts owned by Russian billionaires who have ties to President Vladimir Putin are on the move as the United States and its allies prepare more sanctions on their property following the invasion of Ukraine.
Data reviewed by CNBC from Marine Traffic shows that at least four massive yachts owned by Russian business leaders have been moving toward Montenegro and the Maldives since leaders from around the world announced an array of sanctions in recent days. They include measures from the U.S. Treasury targeting Russia's central bank.
The Maldives does not have an extradition treaty with the U.S., according to Nomad Capitalist.
The property of targeted Russian executives will likely take another hit, as the Biden administration recently announced the creation of a taskforce that will take aim at their lucrative assets, including yachts and mansions. France is putting together a list of properties held by Russian oligarchs, including cars and yachts, that could be seized under sanctions by the European Union.
— Brian Schwartz
Funeral held for school teachers killed by shelling in Dontesk region
Photos show a funeral for school teachers killed by shelling in the separatist-controlled town of Horlivka (Gorlovka) in the Donetsk region of Ukraine.
Biden holds call with European and G-7 allies
President Joe Biden held a call with U.S. allies on Monday to discuss the ongoing armed conflict in Ukraine.
The secure call with European allies and G-7 leaders began at 11:32 a.m. ET and lasted a little over an hour.
Biden spoke from the Situation Room with European Commission President Ursula von der Leyen, European Council President Charles Michel, President Emmanuel Macron of France, Chancellor Olaf Scholz of Germany, Prime Minister Mario Draghi of Italy, NATO Secretary-General Jens Stoltenberg, President Andrzej Duda of Poland, President Klaus Iohannis of Romania, Prime Minister Boris Johnson of the United Kingdom, Prime Minister Justin Trudeau of Canada and Prime Minister Fumio Kishida of Japan.
The officials "discussed their continued support to Ukraine, including security, economic, and humanitarian assistance," according to a White House readout of the call. They also talked about "coordinated efforts to impose severe costs and consequences to hold Russia accountable while working to maintain global economic stability, including with regard to energy prices," the Biden administration said.
In a U.K. readout of the call, Johnson welcomed Germany's defense spending increase and transfer of military equipment to Ukraine.
Johnson also called on allies to respond to the emerging humanitarian crisis on Ukraine's borders.
— Amanda Macias
Microsoft tells Ukrainian government about malware attack that hit the country last week
Microsoft has briefed the Ukrainian government on cyberattacks on civilian and military targets, the software company's president and vice chair, Brad Smith, said in a blog post.
"We immediately advised the Ukrainian government about the situation, including our identification of the use of a new malware package (which we denominated FoxBlade), and provided technical advice on steps to prevent the malware's success," Smith wrote.
Microsoft is also removing state-run news company RT's apps from its Windows app store and lowering the ranking of RT websites in Bing internet search results, Smith wrote.
—Jordan Novet
Satellite images show destroyed bridges and large convoy near Kyiv
Satellite images from Maxar Technologies, taken northwest of Kyiv, show a large military convoy on the edge of Antonov Airport and two destroyed bridges.
— Adam Jeffery
U.S. says it won't 'indulge' dangerous nuclear rhetoric
The Biden administration again pushed back on Russia placing its nuclear deterrence forces on high alert, as the State Department on Monday said it would not "indulge" in rhetoric about the threat of nuclear weapons.
"Russia and the United States have long agreed that nuclear use would have devastating consequences, and have stated many times, including earlier this year, that a nuclear war cannot be won, and must never be fought," a spokesperson for the department said, according to NBC News.
"We think provocative rhetoric regarding nuclear weapons is dangerous, adds to the risk of miscalculation,  should be avoided, and we will not indulge in it," the person said. "We are assessing President Putin's directive and at this time are comfortable with our strategic defensive posture."
"Throughout this crisis, Russia has falsely alleged that it is under threat – including from Ukraine and from NATO. Neither the United States nor NATO has any desire or intention for conflict with Russia. We are unwavering in our commitment to extended deterrence and confident in our ability to defend ourselves and our allies," the spokesperson said.
A U.S. Defense official told reporters Sunday that Russia's step was "unnecessary and escalatory."
"It's clearly essentially putting at play forces that if there's a miscalculation could make things much, much more dangerous," that official said.
— Kevin Breuninger
FIFA suspends Russian teams with World Cup looming
FIFA, the organization that governs international soccer, has suspended all Russian teams until further notice following Moscow's invasion of Ukraine.
The move comes as the globe prepares for this year's World Cup in Qatar.
Read the full statement from FIFA and UEFA below:
Following the initial decisions adopted by the FIFA Council and the UEFA Executive Committee, which decisions envisaged the adoption of additional measures, FIFA and UEFA have today decided together that all Russian teams, whether national representative teams or club teams, shall be suspended from participation in both FIFA and UEFA competitions until further notice.
These decisions were adopted today by the Bureau of the FIFA Council and the Executive Committee of UEFA, respectively the highest decision-making bodies of both institutions on such urgent matters.
Football is fully united here and in full solidarity with all the people affected in Ukraine. Both Presidents hope that the situation in Ukraine will improve significantly and rapidly so that football can again be a vector for unity and peace amongst people.
– Mike Calia
Twitter will add labels to Russian-affiliated media sites
Twitter will start labeling content that shares links to Russian state-affiliated media websites, the company's head of site integrity Yoel Roth said Monday. The social media giant will also work to "significantly reduce" the circulation of that content on its site.
Roth said that since the start of the Russian invasion on Ukraine, the site has seen more than 45,000 tweets a day sharing links to the state-funded media sites.
"As people look for credible information on Twitter regarding the Russian invasion of Ukraine, we understand and take our role seriously. Our product should make it easy to understand who's behind the content you see, and what their motivations and intentions are," Roth said.
—Jessica Bursztynsky
First round of Russia-Ukraine talks has ended, both countries confirm
Talks between Russian and Ukrainian delegations have concluded amid Moscow's invasion of its neighbor, both countries confirmed.
The parties "heard" each other and found areas where they can make progress, said Leonid Slutsky, the head of the Russian parliament's international affairs committee, NBC News reported.
"Every day matters right now," Slutsky reportedly said, according to a translation of his comments on a Russian-language news channel.
A top adviser to Ukraine President Volodymyr Zelenskyy said that more talks could happen soon, the Associated Press reported.
— Kevin Breuninger
Macron urged Putin to end Russian attack on Ukraine, halt civilian strikes, France says
French President Emmanuel Macron urged Russian President Vladimir Putin to end the attack on Ukraine and agree to an immediate ceasefire, the French government said after the two leaders spoke on Monday.
Putin "confirmed that he was willing to commit" to Macron's additional requests that Russia halt all strikes on civilians, preserve all civilian infrastructure and secure main roads in Ukraine, according to a readout from the French government.
Putin and Macron have spoken multiple times about tensions on Ukraine's border, where Russia amassed military forces for months before the Kremlin ordered the attack on its neighbor. Putin in those talks reportedly denied having plans to invade Ukraine.
The readout of the call came after the United Nations Human Rights Office reported at least 406 civilian casualties in Ukraine since Thursday.
The UN General Assembly on Monday morning held a rare emergency special session to address the invasion.
Russia has denied targeting civilians or civilian infrastructure in Ukraine. Multiple outlets have reported evidence to the contrary.
Macron in his latest conversation with Putin "demanded compliance with international humanitarian law and the protection of civilian populations, such as delivery of aid, in accordance with the resolution submitted by France to the United Nations Security Council," the French government said.
Macron "suggested to the Russian President that they remain in contact over the next few days to help prevent the situation from worsening," the readout added. "President Putin agreed."
— Kevin Breuninger and Amanda Macias
Photos show scenes of destruction in Kharkiv amid Russian attack
EDITOR'S NOTE: GRAPHIC CONTENT: Photos show casualties and destroyed Russian and Ukrainian military vehicles in Kharkiv.
— Adam Jeffery
U.S. lawmakers to receive classified briefings on Ukraine as conflict intensifies
U.S. lawmakers will receive a classified briefing from Biden administration officials on the ongoing conflict in Ukraine on Monday evening.
The House briefing is slated to begin at 5:15 p.m. ET followed by the Senate at 7:15 p.m. ET, according to NBC News.
Both chambers will be briefed by Secretary of State Antony Blinken, Secretary of Defense Lloyd Austin, Director of National Intelligence Avril Haines, Chairman of the Joint Chiefs of Staff Gen. Mark Milley, Secretary of Commerce Gina Raimondo, Secretary of Homeland Security Alejandro Mayorkas, Secretary of Energy Jennifer Granholm, Deputy Treasury Secretary Wally Adeyemo and Isobel Coleman, deputy administrator for the U.S. Agency for International Development.
 — Amanda Macias
Switzerland imposes sanctions on Russia
The Swiss government has announced it will adopt the sanctions imposed on Russia by the EU with immediate effect.
This will include taking action to freeze the assets of Russian President Vladimir Putin, Prime Minister Mikhail Mishustin and Foreign Minister Sergey Lavrov.
Switzerland will also deliver relief supplies to people who have fled Ukraine and are now in Poland.
"Switzerland is responding to the serious violations of international law for which these individuals are responsible," the Swiss government said in a statement on Monday. "The ban on imports, exports and investments concerning Crimea and Sevastopol, which has been in place since 2014, has been extended to the Ukrainian regions of Donetsk and Luhansk, which are no longer under the control of the Ukrainian government."
Swiss airspace will also be closed to all flights from Russia.
— Chloe Taylor
Airbnb says it will offer free short-term housing for up to 100,000 Ukrainian refugees
Airbnb announced Monday that it will offer free short-term housing for up to 100,000 refugees fleeing Ukraine.
The company had sent letters to the leaders of Poland, Germany, Hungary and Romania to offer support in welcoming refugees, Airbnb said in a statement. The company said it would work closely with governments to address country-specific needs such as providing longer-term stays.
U.N. Commissioner for Refugees Filippo Grandi said Monday that more than 500,000 refugees have now fled Ukraine into neighboring countries.  
— Chloe Taylor
U.S. expands sanctions against Russia, targets central bank and ministry of finance
The Biden administration announced sanctions against Russia's central bank, the National Wealth Fund of the Russian Federation and Russia's Ministry of Finance, moves that effectively prohibit Americans from doing any business with the entities.
The action will also freeze any assets within the United States.
"We wanted to put these actions in place before our markets open because what we learned over the course of the weekend from our allies and partners was the Russian Central Bank was attempting to move assets and there would be a great deal of asset flight starting on Monday morning from institutions around the world," explained a senior Biden administration official on a call with reporters.
The official said that the U.S. expects its allies to take similar steps in the coming days.
— Amanda Macias
UN to consider whether Russia has committed war crimes in Ukraine
An urgent U.N. session will be held on Thursday to consider whether Russia has committed war crimes in Ukraine, according to Reuters.
It will involve three independent experts looking into alleged violations of international law in Crimea and eastern Ukraine since 2014, and in the rest of Ukraine since Russia invaded the country last week, the news agency reported on Monday.
Ukraine's Foreign Minister Dmytro Kuleba said Kyiv submitted documents to the U.N. last week in which it accused Russia of carrying out atrocities that amounted to war crimes.
Yevheniia Filipenko, Ukrainian ambassador to the U.N. in Geneva, told a U.N. Human Rights Council meeting on Monday that Russian forces had attempted to "sow panic among [Ukraine's] population by specifically targeting kindergartens and orphanages, hospitals and mobile medical aid brigades, thus committing acts that may amount to war crimes."
— Chloe Taylor
U.S. closes Minsk embassy, scales back personnel in Moscow
The U.S. is suspending its operations at its embassy in Minsk, the capital of Belarus, and authorized the departure of non-emergency personnel at its embassy in Moscow, Russia.
In a statement on Monday, U.S. Secretary of State Antony Blinken said the steps had been taken due to security and safety issues stemming from the Russian attack on Ukraine.
"The Department of State continually adjusts its posture at embassies and consulates throughout the world in line with its mission, the local security environment, and the health situation," Blinken said. "We ultimately have no higher priority than the safety and security of U.S. citizens, and that includes our U.S. government personnel and their dependents serving around the world."
— Chloe Taylor
ECB ready to act to prevent market dislocation over Ukraine, official says
The European Central Bank must act prudently while uncertainty around the crisis in Ukraine persists, ECB board member Fabio Panetta said in a speech Monday.
"The dramatic conflict in Ukraine is now weighing negatively on both supply and demand conditions, making uncertainty more acute and exacerbating risks to the medium-term inflation outlook on both sides," he said.
Panetta added that the "unjustifiable" invasion of Ukraine had made the need for caution at the ECB even greater, noting: "The world has become darker, and our steps should be smaller still."
"In this environment, it would be unwise to pre-commit on future policy steps until the fallout from the current crisis becomes clearer," Panetta said.
But he added that the ECB stands ready to act to avoid any dislocation in financial markets that could stem from the war in Ukraine — and that if measures did prove necessary, the ECB "should intervene with equal determination, using all our instruments."
— Chloe Taylor
German soccer team Schalke 04 cuts ties with Russia's Gazprom
German soccer club Schalke 04 has ended its sponsorship deal with Russian state-owned energy firm Gazprom.
In a statement on Monday, Schalke 04 said it was in talks with Gazprom representatives after the soccer team's managing and supervisory boards had decided to end the partnership prematurely.
— Chloe Taylor
NATO chief: We have no intentions of moving into Ukraine
NATO Secretary General Jens Stoltenberg reiterated that the Western military alliance has "no intentions of moving into Ukraine neither on the ground or in the airspace," in an interview with NBC News on Monday morning.
Stoltenberg said he had spoken to Ukrainian President Volodymyr Zelenskyy on Monday morning. In their conversation, Stoltenberg said he had "reiterated the strong support from NATO allies and also informed him that we are stepping up, so allies are providing more anti-tank air defense missiles, military aid, financial support, because we stand with Ukraine."
However, Stoltenberg stressed that NATO would not get caught up in the conflict by sending troops in on the ground to Ukraine.
— Vicky McKeever
Putin 'rather indifferent' to sanctions, Kremlin says
Kremlin spokesperson Dmitry Peskov said Monday that Russian President Vladimir Putin was "rather indifferent" to the West's sanctions.
In a press briefing, Peskov said the sanctions included "rather absurd provisions" on Putin personally.
He added that "Russia's economic reality had changed but there is no reason to doubt the effectiveness and reliability of the central bank."
"The Russian Federation was preparing for the possible sanctions in advance. Even to the harshest sanctions," he also told reporters.
— Chloe Taylor
Russian stock market remains closed
Russia's stock market and derivatives market will remain closed on Monday.
"Due to the current situation, the Bank of Russia has decided not to open a stock market section and a derivatives market section on the Moscow Exchange today," the Central Bank of Russia said in a statement translated by NBC News.
"The operating hours of the Moscow Exchange on March 1, 2022 will be announced on the official website of the Bank of Russia before 09:00 Moscow time on March 1, 2022."
— Chloe Taylor
Japan joins further coordinated sanctions against Russia
Japanese Prime Minister Fumio Kishida said on Monday that Tokyo will impose "even stronger" sanctions against Russia.
These will include freezing the assets of Russian President Vladimir Putin and other Russian government officials and participating in the exclusion of Russian banks from the SWIFT network, Kishida said on Twitter.
Kishida said Russia's invasion of Ukraine was "an attempt to unilaterally change the status quo by force" and a "clear violation of international law [that] cannot be forgiven by any means."
In addition to the $100 million already loaned to Kyiv, Japan will provide $100 million in emergency humanitarian assistance, he added.
Kishida's announcement came after he spoke to Ukrainian President Volodymyr Zelenskyy to discuss Japan's response to the escalating conflict.
— Chloe Taylor
UN records at least 406 civilian casualties in Ukraine
There have been at least 406 civilian casualties in Ukraine since Thursday, according to the U.N.'s Human Rights Office.
Speaking at the organization's 49th Human Rights Council meeting on Monday, Michelle Bachelet, U.N. Commissioner for Human Rights, said the U.N. had recorded 102 civilian deaths, including seven children, in Ukraine between Thursday morning and Sunday night.
Meanwhile, 304 civilians had been injured in the conflict.
"The military attack on Ukraine is putting at risk countless lives," Bachelet said. "Most of these civilians were killed by explosive weapons with a wide impact area, including shelling from heavy artillery and multi-launch rocket systems, and air strikes."
"The real figures are, I fear, considerably higher," she added.
— Chloe Taylor
NATO chief says alliance ready to increase Baltic presence
In a tweet on Monday, NATO chief Jens Stoltenberg said the military alliance stands ready to do more to enhance its defensive presence in the Baltic region.
https://twitter.com/jensstoltenberg/status/1498244900315348997
— Chloe Taylor
Talks between Ukraine and Russia have begun
One of the delegates Kyiv has sent to the Belarusian border for negotiations with Moscow has said talks with Russian officials have begun, according to Reuters.
Mykhailo Podolyak, an advisor to the Ukrainian Presidential Office, confirmed in a text message to the news agency on Monday that talks were underway.
— Chloe Taylor
Almost half a million Ukrainians have fled the country, U.N. says
Laura Padoan, a spokesperson for the U.N. Refugee Agency, said on Monday that 422,000 people have fled Ukraine to neighboring countries.
Meanwhile, more than 100,000 people have been displaced within Ukraine, she said on Twitter.
— Chloe Taylor
Kremlin accuses EU of hostile behavior over supply of weapons to Ukraine
The Kremlin said Monday that the supply of weapons to Ukraine is dangerous and an example of hostile behavior from the EU toward Russia, Reuters reported.
Kremlin spokesperson Dmitry Peskov also told reporters that Moscow regretted the fact that talks had not started on Sunday, noting that the Ukrainian side had just arrived, according to Reuters.
He declined to comment on what Russia hoped to achieve during talks with Ukraine.
— Chloe Taylor
Zelenskyy asks EU to immediately accept Ukraine as new member state
Ukrainian President Volodymyr Zelenskyy has asked the EU for Ukraine's immediate accession to the bloc.
"We appeal to the EU to accept Ukraine immediately under the new special procedure," he said in a video address Monday, according to an NBC News translation.
"We are grateful to our partners for being with us, but our goal is to be with all Europeans and, most importantly, to be equal. I am sure it is fair, I am sure that we deserve it. I'm sure it's possible."
Countries must meet strict standards and criteria in order to be accepted into the EU, and there is usually "a pre-accession period of varying length," according to the European Commission.
— Chloe Taylor
Ukrainian officials arrive at Belarusian border for talks with Russia
A Ukrainian delegation has arrived at Ukraine's border with Belarus to hold talks with Russian officials, the Ukrainian president's office has announced.
In a statement on the Ukrainian Parliament's official Telegram account, the government said Ukraine's delegation included Defense Minister Oleksiy Reznikov, Presidential Office Advisor Mykhailo Podolyak, and Deputy Foreign Minister Mykola Tochytsky, among others.

"The main subject of the negotiations is an immediate cease-fire and the withdrawal of troops from Ukraine," the statement said.
— Chloe Taylor
Russia's central bank more than doubles interest rate as ruble plummets
The Central Bank of Russia announced Monday that it would raise its key interest rate to 20%, up from 9.5%, as the ruble hit a record low against the dollar.
The rate hike "is designed to offset increased risk of ruble depreciation and inflation," the central bank said.
It comes after attempts to halt foreigners' bids to sell Russian securities to contain the market fallout from a slew of sanctions imposed on Moscow by the West.
The ruble fell as far as 119.50 per dollar on Monday, down a whopping 30% from Friday's close.
Read more from CNBC's Natasha Turak here.
Ukrainian forces slowing Russian advance on Kyiv, British government says
The U.K. Ministry of Defense has said the majority of Russia's ground forces remain more than 30 kilometers (18.6 miles) to the north of the Ukrainian capital.
The advance of Russian troops on Kyiv has been slowed by Ukrainian forces defending Hostomel Airport, the U.K. Defense Ministry added, an airfield near Kyiv which Moscow had hoped to take on the first day of its invasion.
The airport, which handles heavy cargo flights, would enable Russia to airlift troops directly into Kyiv.
Meanwhile, heavy fighting continued around the cities of Chernihiv, a northern city close to Kyiv, and Kharkiv, in northwest Ukraine, although neither city had fallen to Russia, according to U.K. government intelligence.
"Logistical failures and staunch Ukrainian resistance continue to frustrate the Russian advance," the British MoD said in its update on Monday.
"Despite continued attempts to suppress details of the conflict from the Russian population, the Russian Armed Forces has for the first time been forces to acknowledge suffering casualties."
— Chloe Taylor
Russia's nuclear weapons are Putin's only 'major leverage,' says risk consultancy
Russian President Vladimir Putin's order to put his country's nuclear deterrence forces on high alert is a "very dangerous escalation" of the Russia-Ukraine conflict, said Oksana Antonenko, director of global risk analysis at Control Risks.
As Western sanctions against Russian officials and establishments continue to increase, and as the country's economy will soon take a "massive hit," Russia's nuclear weapons are Putin's only "major leverage" against the West and Ukraine, she told CNBC's "Squawk Box Asia" on Monday.
"It is unlikely that President Putin is threatening to launch nuclear weapons against the West," but it is still "very much a threat directed to Ukraine" as weapons are being deployed to the Western part of Russia, she said.
However, Putin isn't showing "victories in the battlefield" and has "painted himself in a corner," as Ukrainian forces remain highly motivated to defend their country against Russian aggression, Antonenko said.
She added that "Russia was not able to secure control of any of the major towns within Ukraine" and has yet to secure a military victory.
Planned talks between the delegates representing the Ukrainian and Russian governments are unlikely to cause a cease-fire soon as "the only agreement that is possible at the moment is for Russia to withdraw its forces from the territory of Ukraine," but that will not be accepted by Putin at the moment, Antonenko said.
— Charmaine Jacob
Ukrainian refugees cross border into Medyka, Poland
CNBC's Steve Sedgwick reports from Medyka, just a few hundred yards from the Ukraine-Poland border. Support mechanisms are being put in place for those fleeing the violence in the Ukraine-Russia war.
As the severity of the fighting in Ukraine intensifies, there are fears that an exodus from the war being measured, at the moment, in the thousands could tragically be measured in the millions within the coming days.
—Matt Clinch
Sophisticated weapons are still getting into Ukrainian hands
Western allies are still getting arms into Ukraine unhindered since Russia invaded the country, and those weapons are getting more sophisticated, according to a national security observer.
"It's not just ammunition. It's now Stinger missiles. It's now fighter jets that have come in from the European Union," Executive Editor Kevin Baron of security publication Defense One told CNBC's "Capital Connection" on Monday.
Stinger missiles are shoulder-fired weapons designed to shoot down helicopters and other aircraft.
"This is quite a significant increase of firepower being given to the Ukrainians," he said.
It's unclear by what means the allied countries are still getting weaponry into Ukrainian hands, Baron said.
No NATO troops are being deployed to Ukraine, he said, "at least not overtly."
—Ted Kemp
Ukraine general says Kyiv defenders inflict 'significant personnel losses' on Russian troops
Alexander Syrsky, the Ukrainian general in command of Kyiv's defense, said in a Facebook post that the "situation is under control" in the capital.
Syrsky's statement is corroborated by the most recent updates from U.S. Department of Defense and U.K. Defence Ministry.
"All attempts by the Russian Occupation Forces to achieve their goal failed. Convoys of occupiers' equipment were destroyed," he said, according to an NBC News translation.
"The enemy suffered significant personnel losses. Russian troops are demoralized and exhausted," Syrsky said. "We have shown that we know how to protect our home from uninvited guests."
Individual military accounts are difficult to confirm as much of Ukraine remains inaccessible and the situation on the ground shifts constantly.
—Ted Kemp
Support for Putin could wane if sanctions hit his inner circle hard, says analyst
Public support for Russian President Vladimir Putin will wane if people "wake up tomorrow or today and they see suddenly that their savings are worth a quarter of what they were on Friday. That has an impact," said Douglas Rediker, a nonresident senior fellow at Brookings Institute. 
Western nations could roll out further sanctions targeting the Russian leader's inner circle, such as the oligarchs, which could undermine his grip on power, said Rediker.
If the oligarchs are "never going to see their yachts" again or "never going to be able to go to that mansion"  — that potentially has "a chilling effect on their lives, their wealth accumulation, and their support for Putin," he noted. 
"I think you're certainly going to see more granularity than what was announced over the past seven years," he told CNBC's "Squawk Box Asia" on Monday. 
"You are going to see the list of banks that are included in the SWIFT sanctions protocol. You're going to see oligarchs that are named. I would look for some high-profile seizures of mansions and yachts and jets in the coming days," he added.
The U.S., European allies and Canada agreed Saturday to remove key Russian banks from the interbank messaging system, SWIFT, which serves as an internal messaging system between more than 11,000 banks and financial institutions in over 200 countries and territories. The move is an extraordinary step that will sever the country from much of the global financial system.
— Sumathi Bala
Ukraine defenders turn back Russian attacks at Kyiv, Kharkiv, Kherson
More than four days into Russia's invasion of Ukraine, the smaller country's defenders continue to frustrate Russian attempts on its major cities.
"Russian forces are continuing to advance into Ukraine from multiple axis but are continuing to be met with stiff resistance from the Ukrainian Armed Forces," the U.K. Defence ministry said.
Ukraine retains control of capital Kyiv and its second-biggest city, Kharkiv, despite heavy fighting, according to the latest intelligence update from the ministry, and others.
Ukrainian defenders also maintain their hold on Kherson, a third major city targeted by Moscow planners, a senior U.S. Defense official said Sunday on condition of anonymity.
Russian advances are being slowed by "fuel and logistics shortages, especially in Kharkiv, but also on the advance to Kyiv," the U.S. Defense official said.
Meanwhile, Europe and the United States show unified opposition to Vladimir Putin's designs on Ukraine, announcing economic sanctions and weapons shipments.
"Mr. Putin says he doesn't want a strong NATO on his western flank," said U.S. Secretary of Defense Lloyd Austin in a statement from the Pentagon on Sunday night ET. "He's getting exactly that."
—Ted Kemp
Zelenskyy is trying to 'play the long game' as Ukraine defends Kyiv, security expert says
Russia's invasion of Ukraine is a "race against time," said Fabrice Pothier of Rasmussen Global.
While Putin is trying to take Kyiv in order to dictate the terms of "surrender, territorial grab, and the kind of regime he would like to see", Pothier said Ukraine's Zelenskyy is trying to "play the long game."
The Ukrainian president is trying to delay Russia's takeover of Kyiv as much as possible in order to garner international support and possibly even military aid, explained Pothier, who is chief strategy officer of Rasmussen Global.
"I think the talks [between Russia and Ukraine] are more about also Zelenskyy showing that he's not giving up on diplomacy, even though he is very much focused on fighting back," he told CNBC's "Squawk Box Asia."
"We're still very much in a military competition," he said. "The question is, who is going to control time here?"
— Chelsea Ong
Dow futures open sharply lower amid uncertainty over the global economic fallout of Russia's attack on Ukraine
U.S. stock futures tumbled in overnight trading on Sunday amid jitters over the global economic fallout of Russia's attack on Ukraine.
Dow futures opened down more than 500 points before recovering a bit, while the S&P 500 futures sank 2.3% and Nasdaq 100 futures dropped 2.7%.
The losses came on top of volatile trading last week, as geopolitical tensions escalated and calls for harsh sanctions on Russia added to the uncertainty. Early Thursday local time, Moscow launched military action in Ukraine.
All eyes were also on the Russian ruble, which was set to plunge at least 19% as banks offered it at around 100 rubles per dollar on Sunday, according to Reuters. It closed Friday at 84 rubles per dollar.
—Terri Cullen
Copyright CNBCs - CNBC