Connecticut's COVID-19 test positive rate fell slightly to 1.3% after hovering around 2% in the prior days, but hospitalizations continued to rise, according to the latest data from the Department of Public Health. Eleven communities are now under what the governor called a "Red Alert" due to increasing coronavirus cases.
As of Thursday, Connecticut has 191 people hospitalized with COVID-19, a net increase of three since yesterday. Three more people have died from the coronavirus bringing the total lost to 4,540.
New State COVID-19 Alert Levels
The state is now releasing a map every Thursday to show where communities stand in terms of coronavirus infection rates and how many cases are positive per 100,000 residents.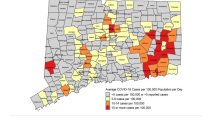 A town is under a "Red Alert" when it has at least 15 new daily coronavirus cases per 100,000 population. The communities currently under a "Red Alert" are Canterbury, Danbury, East Lyme, Griswold, Hartford, Montville, Norwich, New London, Preston, Sprague and Windham.
Towns and cities under a "Red Alert" will have the option on the local level to revert back to Phase 2.
Residents in COVID-19 "Red Alert" areas are asked to limit trips outside their homes and avoid gatherings with non-family members. Communities will be asked to cancel public events and limit community gathering points. In addition, the state recommends postponing all indoor activities in those "Red Alert" locations.
For the 11 municipalities under a "Red Alert," their collective test positivity rate is 3%, according to chief operating officer Josh Geballe.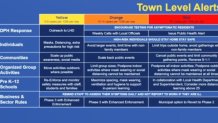 Travel Advisory Changes Coming?
Governor Ned Lamont said he is considering making changes to the state's current quarantine travel advisory. More than 30 states are currently on the quarantine list.
The governor said he is thinking everyone might need to get tested or quarantine before coming to Connecticut.
"Now that you've got 36, 39 states, it's probably a lot simpler and clearer -- you want to come to Connecticut, this is what you've got to do -- test and quarantine," Lamont said at a Thursday afternoon news conference.
Lamont said he would like to continue to work "in conjunction" with New York and New Jersey on any changes to the quarantine advisory. He said state leaders are currently in communication with their counterparts.
"I think maybe we start treating all these states as one," the governor said. "It's getting a little complicated who is in and who is out week in and week out."
"It just makes a lot more sense to me if we can do this as one," Lamont said. He said he wants to simplify guidance for travelers to understand what the rules are when visiting Connecticut. The governor said he expects an update on this issue in the next week or two.
Stories from LX News
LX, or Local X stands, for the exponential possibilities of storytelling in our communities.