Connecticut coronavirus cases have surged in the 20 to 29 age group this past week, followed by ages 30 to 39.
"The younger age group which has spiked up are a little more casual when it comes to wearing the mask and close-contact socializing," Gov. Ned Lamont said.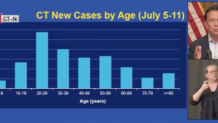 "The older you are the more cautious you are," Lamont continued.
The percentage of positive COVID-19 tests continues to stay below one percent.
Nine new deaths have been reported since yesterday, bringing the death toll to 4,389.
One less hospitalization has been reported, bringing Connecticut's total to 66.
Coronavirus Pandemic
Full coverage of the COVID-19 outbreak and how it impacts you
An additional 11,453 tests have been done, bringing the total amount of tests performed in the state to 613,569.