There are now about 100 Red Alert towns in Connecticut, which accounts for roughly 80% of the population, according to Gov. Ned Lamont.
That is an increase from last week in which over 60 towns were under Red Alert.
The governor said Connecticut is among the top five in the country for COVID-19 testing.
"We're bringing in the reinforcements," Lamont said.
Lamont said there are over 200 testing sites around the state and weekend coverage is being added.
Below is a list of towns under Red Alert:
Ansonia
Beacon Falls*
Berlin
Bethel
Bethlehem
Bloomfield*
Bozrah
Branford*
Bridgeport
Bristol
Brookfield
Brooklyn
Chaplin
Cheshire*
Clinton
Cromwell*
Danbury
Deep River*
Derby
Durham*
East Granby
East Hampton
East Hartford
East Haven
East Windsor
Easton
Essex*
Fairfield*
Franklin
Goshen*
Greenwich*
Griswold
Groton
Hamden
Hampton
Hartford
Killingly
Killingworth*
Ledyard
Manchester*
Meriden
Middlebury
Middlefield
Middletown
Milford*
Monroe
Naugatuck
New Britain
New Canaan*
New Fairfield*
New Haven
New London
New Milford*
Newington
Newtown*
North Branford
North Haven
North Stonington
Norwalk
Norwich
Orange*
Oxford*
Plainfield
Plainville
Plymouth
Portland*
Preston*
Prospect
Redding*
Rocky Hill*
Seymour
Shelton
Sherman*
Southbury*
Southington
Sprague
Stamford
Stratford
Thomaston
Tolland
Torrington*
Trumbull*
Wallingford
Washington*
Waterbury
Waterford
Watertown
West Hartford*
West Haven
Westbrook*
Weston*
Westport*
Wethersfield
Willington*
Wilton*
Windham
Windsor
Windsor Locks*
Wolcott
Woodbury
*Newly added to the red-level alert list this week
The towns of Ellington, Montville, North Canaan, Putnam, and Woodbridge were in the red zone last week and have been downgraded to a lower alert level this week, according to Lamont.
The state has started a color-coded alert system that places each city and town in a category based on its COVID-19 rate.
Red is the highest alert level and municipalities in that category have the option to roll back to a more restrictive phase two of reopening rather than remain in phase three, which the state is in now.
Recommended Thanksgiving Quarantine
The governor is urging Connecticut residents to take extra precautions as Thanksgiving approaches.
Residents are being advised to quarantine for 14 days either prior to or after any Thanksgiving travel, the governor said.
Even if test results come back negative, people should still quarantine for 14 days. Lamont said residents should also avoid quarantining with family members who are at high risk.
People are asked to avoid large gatherings and reunions by limiting private gatherings to 10 people this Thanksgiving.
Lamont said those who are over 60 years old or those who are high risk should consider staying home as much as possible.
Students should also get tested for COVID-19 before leaving college and on the seventh day of quarantining, Lamont said.
New COVID-19 Numbers
Connecticut's hospitalizations have doubled over the past two weeks and increased by 33 overnight.
The current number of people hospitalized is 617.
The state's test positivity rate is 4.8%. The seven-day average is 4.4%, according to Lamont. Connecticut's test positivity rate was at 4.76% on Wednesday, down from Tuesday's rate of 6.7%.
A total of 1,158 people among 24,001 tested for the virus since Wednesday.
Ten new deaths have been reported since Wednesday. The state's death toll now stands at 4,726.
Connecticut is among the top 10 states experiencing the highest percentage of increases in COVID-19 cases in the last two weeks, according to NBC News. The state has seen a 106% increase in cases in the last 14 days.
COVID-19 Exposure Notifications Now Available on Your Phone
All smartphone users will now have the option of enabling COVID-19 exposure notifications from the Connecticut Department of Public Health.
COVID Alert CT, the state's official exposure notification system, is now available for Apple and Android.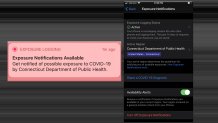 Once installed, the app uses Bluetooth to determine if a user's device moves within six feet of someone who has tested positive for the virus for a total of 15 minutes or more in a day. The app does not share personal information.
Contact tracers will ask users who have tested positive if they are willing to share "close contact" codes the app has logged when they may have been contagious. If that person agrees, a contact tracer will give them a verification code to submit in the app, which will then notify any affected users. These notifications do not reveal any information about the user who tested positive.
"We've been testing this in some of our colleges over the last couple of weeks, it's working," Lamont said.
HOW TO SET UP COVID ALERT CT ON YOUR DEVICE:
On iPhone:
Go to Settings > Exposure Notifications > Turn on Exposure Notifications
Tap Continue and select United States > Connecticut
Complete COVID Alert CT Onboarding
To verify that exposure notifications are enabled on an iPhone, go to Settings > Exposure Notifications. If notifications are enabled, users should see that the Exposure Logging Status is set to Active and there will be a green checkmark next to it. Users do not need to enable Availability Alerts on their iPhone in order for COVID Alert CT exposure notifications to work. Enabling Availability Alerts will let users know if they are in a region that is using the exposure notification tool, but is not necessary for receiving notifications.
On Android:
The COVID Alert CT app can be downloaded from Google Play. To verify that exposure notifications are enabled on an Android phone, open the COVID Alert CT app. Click on the Settings tab and ensure that Exposure Notifications are set to On. If not, click on Exposure Notifications and turn the toggle on.