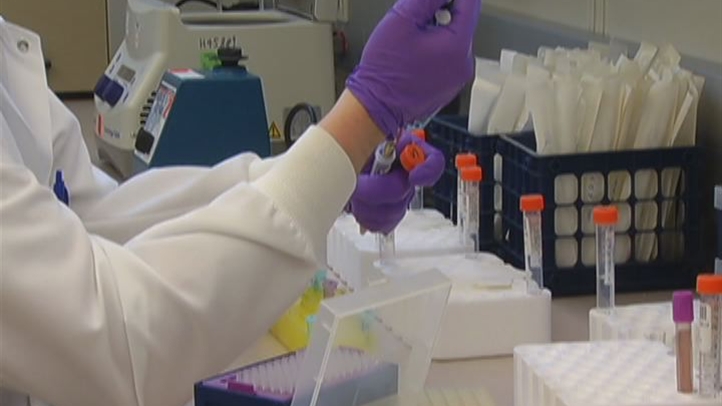 Colleen Carroll's younger sister Kelly died at the age of 33 from ovarian cancer.
"I always say, I think my sister saved my life because if it weren't for her, I wouldn't have been so vigilant about keeping an eye on my own health," said Carroll.
Kelly's death prompted Colleen to get checked for the disease, and at first, she was cleared. When both her cousin and her uncle were told they had cancer, however, she sought genetic testing and counseling. The results concluded the family suffered from Lynch Syndrome.
"It involves colon cancer, uterine, ovarian and some skin cancers, which my family has had as well," said Carroll.
It turns out the test that cleared her of ovarian was the wrong one and after another genetic test was performed, Carroll received different results.
"At age 36, I was diagnosed with ovarian cancer," said Carroll.
Dr. Ellen Matloff, of Smilow Cancer Hospital at Yale-New Haven said, although the Carroll family lost loved ones in their diagnosis process, lives have been saved.
"This genetic testing is really a relatively new field that has emerged and it allows us to determine why in a single family, there may be multiple cases of cancer," explained Matloff.
Carroll said both of her nieces, Erika and Jessica, are carriers of the mutated gene, but they will be regularly monitored to catch the disease if it develops.
Dr. Matloff added that there has never been more hope in cancer research.
"We now have medications that are tailored to people who have a genetic mutation and we are very hopeful this new wave of personalized cancer care is going to revolutionize cancer treatment," explained Matloff.
She also encouraged those who may have a personal or family history of early-onset cancer to seek testing and emphasized the importance of early detection.
Carroll said her sister's death forced her to take control of her life and added, "there's a sense of relief for me, why I got cancer and why everybody got cancer."