It's been a year since a plane crashed into two houses in East Haven, killing two sisters in one of the homes and the father and son on the plane, but the East Haven community hasn't forgotten the devastation the tragedy caused in the neighborhood.
East Haven United, a network of churches in town, is holding a remembrance ceremony at Old Stone Congregational Church Saturday as the community comes together later this morning to commemorate the four lives lost on the one-year anniversary of the crash.
Two Children, Pilot Unaccounted for After Crash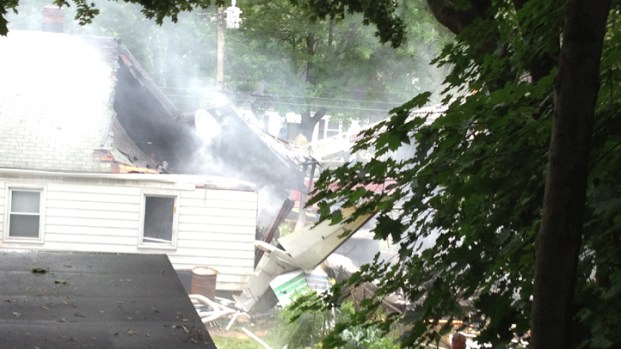 Two homes caught fire when a plane flown by Washington resident Bill Henningsgaard crash landed on Aug. 9, 2013, killing Sade Brantley, 13, and Madisyn Mitchell, 1. Henningsgaard was flying with his son, Max, 17, to tour East Coast colleges and both died in the crash.
NTSB Releases Preliminary Report on East Haven Fatal Plane Crash
The East Haven community rallied around Joann Mitchell, the East Haven mother of the two girls.
"I started screaming for my girls," Mitchell told NBC Connecticut months after last year's plane crash. "Sade. Madisyn. There's nothing. They didn't say anything. I probably would've burned in the house if they hadn't pulled me out. But as their mom, I had to find my girls."
East Haven Mayor Joseph Maturo Jr. released a written statement Saturday morning reflecting on the tragic event.
"One year ago our Town experienced a sudden tragedy the likes of which had not occurred in decades and certainly will never be forgotten," Maturo Jr. said. "I can vividly remember the first rate response of our emergency services and government departments to the incident and to needs of the affected families, whose lives had changed that one August morning. But what I will never forget was in the days, weeks and months following that plane crash, the East Haven, that our media, all too often chooses NOT to portray, came shining through. Our community of hard working citizens, businesses and organizations stepped forward displaying a loving concern for all the families with an outpouring of caring and generosity that makes me very proud to be called their Mayor."
Mayor Says 2 Families Are Affected
The ceremony is scheduled to begin at 11:30 a.m. on Saturday. Old Stone Congregational Church is located at 251 Main Street in East Haven.
Published at 9:34 AM EDT on Aug 9, 2014 | Updated at 10:51 AM EDT on Aug 9, 2014