The first major storm of the season dumped several inches of snow across much of the state, and dropping temperatures will make for icy conditions Thanksgiving morning.
Snow that turned rain in parts of central Connecticut and south of the I-84 corridor Wednesday afternoon changed back as night fell. Expect snow across most of the state through midnight, when flurries will begin to taper off.
By the time the storm is over, the northern and western parts of the state could receive up 12 inches of snow or more. Parts of the northwest corner, including Norfolk, Hartland, Barkhamsted and West Granby, will see snow totals in the double digits.
A band of 4 to 8 inches is expected inland along the Interstate 84 corridor, and although rain will turn to snow in the south, minimal accumulation is expected along the shoreline.
The roads will ice up overnight as temperatures dip into the upper 20s inland and hover around 30 degrees along the shoreline. Icy conditions could impact Thursday morning travel and provide slippery footing for Thanksgiving Day road races.
Winter storm warnings remain in effect for the northern part of the state, including Hartford, Litchfield, Tolland and Windham counties, through 7 a.m. Thursday.
The National Weather Service has canceled warnings issued of the northern portions of Fairfield, Middlesex and New Haven counties, which remain under a winter weather advisory.
Snow Makes for Mess on State Roads
Driving conditions deteriorated throughout the day Wednesday, and numerous crashes and spin-outs were reported across the state.
As of 9:30 p.m. Wednesday, AAA had received 1,033 calls for help in greater Hartford and the eastern part of the state, many of which came throughout the afternoon. Spin-outs, flat tires, and towing service were among the day's most common problems.
Shortly before 3 p.m., a tractor-trailer driving on Route 8 in Beacon Falls crashed down an embankment and into the Naugatuck River. Around the same time, a driver was hospitalized for treatment of an arm injury after losing control of his car on North Sterling Road in Moosup.
Emergency crews addressed a major gas leak after a car struck a gas line in Portland earlier today, and in Torrington, a fire truck got stuck on Burr Mountain Road.
Snow Causes Cancellations at Bradley Airport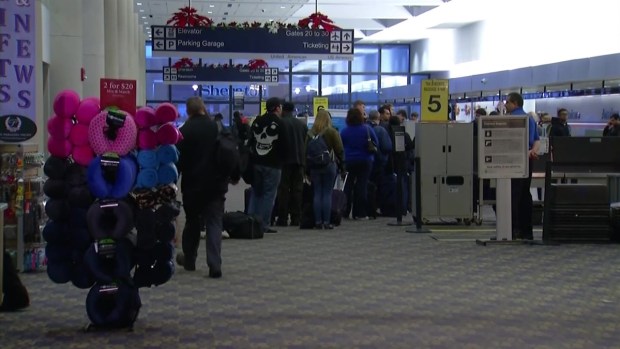 Thousands of power outages were reported around the state, primarily in the northwest hills, where heavy, wet snow is weighing down trees. According to the Connecticut Light and Power outage map, 78 percent of the town of Sharon lost power for a time this afternoon.
State offices closed at 12:30 p.m. and the governor ordered all second-shift state employees who are designated as "nonessential" not to report to work Wednesday. The state Department of Transportation also canceled all scheduled roadwork for the day, according to the governor's office.
Before the snow started to fall, several schools canceled classes for the day, while others, such as the University of Connecticut, decided to close early. University of Connecticut campuses, with the exception of the health center, closed at 12:30 p.m. The Connecticut College admissions office closed at 4 p.m.
Some schools have also gone so far as to postpone football games scheduled for Thanksgiving Day, including the game between Shelton and Derby high schools, which has been postponed to Friday at 5:30 p.m. at Shelton High.
Derby vs Shelton has been postponed to Friday at 5:30pm still at Shelton high school. @ValleyIndy@SHSHeadmaster@nhrvalley@NBCConnecticut

— Derby High School (@DerbyRedRaider) November 26, 2014
In New York, Gov. Andrew Cuomo closed I-84 to commercial vehicles between the Connecticut.
During a news conference on Tuesday, Malloy urged people to stay off the roads through the height of the storm. If you have to travel, Malloy advised using mass transit, such as Metro-North, if possible. The railroad began adding service as of 1 p.m. today.