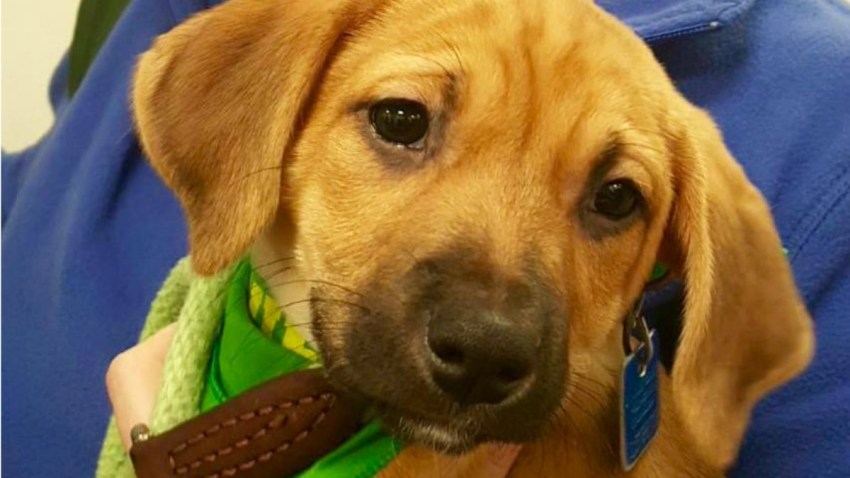 Before you watch the Broncos and the Panthers duke it out in Super Bowl 50 on Sunday, how about a round of "a-paws" for Connecticut puppies helping promote another dogged football game, the doggone cute Puppy Bowl XII.
Twelve puppies available for adoption through the Connecticut Humane Society have been touring to promote the 12th annual Puppy Bowl on Animal Planet.
Addison, Blossom, Charlotte, Little Foot, Miller, Pete, Petrie, Ruby, Spike, Violet, Cera and Mo appeared on ESPN and SportsCenter last Thursday and the TODAY show on Monday. You can also see them on E!News.com at 2 p.m. on Thursday, Feb. 4 and Weekend Today from 7 to 9 a.m.
The humane society staff members said they "can't wait to join the fun again" after having such success participating last year, which generated a lot of "calls, emails and social media buzz around the country with people from as far away as Louisiana and Illinois calling the Connecticut Humane Society to adopt puppies.
The humane society expressed gratitude to Animal Planet for including them in the promotion and said "animal welfare groups around the country are very grateful for the emphasis put on pet adoptions through Puppy Bowl."
The "Puppy Bowl" airs on Animal Planet at 3 p.m. EST/2 p.m. CST on Sunday, Feb. 7 before the big game.
The Connecticut puppies are available for adoption the week following "Puppy Bowl." You can visit www.cthumane.org/adopt for more information and to check on the puppies' statuses.
Peruse the Puppy Bowl pups up for adoption at the humane society's Newington and Westport locations this year and see if one of them catches your eye!
EDITOR'S NOTE: An earlier version of this article reported that the Connecticut puppies are appearing in "Puppy Bowl," when they're actually just touring to help promote the event on various television shows and on media websites.