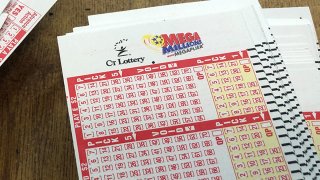 There was a $10,000 Mega Millions winner in Connecticut Friday night.
The winning numbers were 1-4-50-54-59 and the Mega Ball was 17.
The winning ticket matched four numbers and the Mega Ball. It's not clear where it was sold.
The estimated Mega Millions jackpot for Tuesday night us $31 million.
Big Mega Millions Wins in CT in 2023
There have been 10 big Mega Millions wins in Connecticut this year.
Jan. 3: $10,000
Jan. 10: One $3 million winner and one $10,000 winner
Jan. 13: One $20,000 and one $10,000
Jan. 17: $10,000
Jan. 20: $40,000
Jan. 31: Two $10,000 winners
Feb. 3: $10,000 winner