Another remarkable tornado day in New England with three tornado touch downs this morning in Stonington, Woods Hole, and Fishers Island. The south coast of New England is not exactly a tornado hotspot but in an event like today's the south coast is favored. More on that in a minute.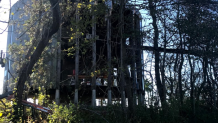 The tornado over Fishers Island produced a path of widespread damage that included a home with virtually every window on three sides blown out. A shed was swept off its foundation and countless trees were snapped in half. A large tornado debris signature was detected by Doppler Radar as pieces of leaves and debris were sucked from the island up into the thunderstorm cloud.
The tornado lifted over Fisher's Island Sound but the tornado touched down again on the Stonington/North Stonington line and continued on a discontinuous 2.3 mile path to Route 49.
A third tornado occurred briefly in Woods Hole after a large waterspout came ashore on Cape Cod before weakening.
Tornadoes this time of year are unusual and tornadoes in New London County are very unusual. Since 1950 this will be the third on record!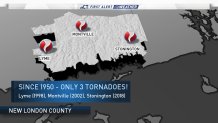 The environment today was much like last week's with strong instability in the lowest 10,000 feet of the atmosphere and adequate low-level wind shear. The atmosphere was not quite as impressive as last week but was enough for tornadoes.