A Connecticut teen had a "chill" ride to his prom this year.
The Bristol teen shocked classmates when he showed up to the senior prom in an ice cream truck.
Zack Nichparenko said he wanted to take a "non-traditional" approach to prom.
"I don't think anyone took me seriously at first," the teen said about his idea.
The 17-year-old said he was outside his house about two weeks before Bristol Eastern High School's prom on May 27 when Daren's Ice Cream Truck stopped by. That's when he got the idea.
Nichparenko said the ice cream man, Daren Carroll, has been a staple in his neighborhood since he was roughly 4 years old.
Carroll said he's been asked to plenty of events in the past, like weddings or birthday parties, but never a prom.
"Never has anybody asked me to go the prom in the ice cream truck," Carroll told NBC Connecticut. "Never, ever."
The day of the prom, Carroll met with the high school senior at Slider's Grill and Bar parking lot to take some pictures with family before dropping Nichparenko off at the dance around the corner.
"At first I tried to talk him out of it," Carroll said, noting that at his own prom, no one was outside to see anyone arriving. "But he was right. When we showed up, about 200 people were there."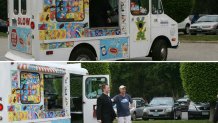 When Nichparenko and Carroll rolled up in the ice cream truck, they were stopped by security at the gate and asked what they were doing there.
"I have a delivery!" Carroll told them. "I have a guest!"
No ice cream was sold to students outside the prom at Aqua Surf in Southington because the teens were about to go inside to eat, and Carroll said he didn't want to take away from that.
"I wanted to do something that not only people will remember, but something that hasn't been done before," Nichparenko said.
An ice cream truck ride to prom in Connecticut is apparently a first, which comes as no surprise from the aspiring entrepreneur.
Nichparenko said his plans after high school is to start a dryer vent company in Bristol and has started drafting business ideas with his dad.