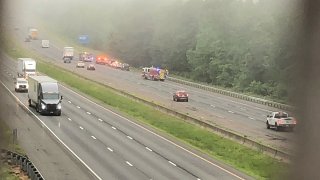 A 25-year-old West Haven man has died after a crash on Interstate 84 in Tolland just after 5 a.m. Thursday.
State police said 25-year-old Conor Patrick Pickering, of West Haven, lost control while driving near the exit 68 off-ramp, skidded off the road and hit a tree.
Pickering was brought to Rockville General Hospital, where he was pronounced dead, state police said.
Anyone with information about the crash is asked to call Trooper Dennis at Troop C at (860) 896-3200.