Two young men, including a New Britain High School student, have died after a house fire in New Britain Sunday night that also injured a firefighter.
Both victims were young men and one was a 17-year-old student at New Britain High School, according to school officials. The men were trapped on the second floor of the home, Fire Chief Raul Ortiz said.
The firefighter is in stable condition, according to Mayor Erin Stewart, who tweeted the firefighter is "in pain but will be okay."
Two other firefighters suffered minor injuries, Fire Chief Raul Ortiz said.
"We pray for the families affected by this awful tragedy," Mayor Stewart said in a tweet.
The New Britain Fire Department responded to 73 Elam Street on Sunday and when they arrived, they spotted a heavy fire engulfing the house. The fire department received reports of two people trapped in the building so they made an "aggressive, interior attack," Ortiz said.
The firefighter who is being treated at the hospital fell off the roof, Ortiz said. Ortiz told reporters that he believes three people were home and one made it out on their own.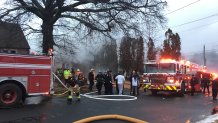 An NBC Connecticut photographer spotted a tarp in front of the house.
"There's a lot of family members out here offering their support," Ortiz said. "This is one of those times where the community does come together."
Clergy members remained at the scene Sunday night to help both the family and firefighters.
"We're also human," Ortiz said. "Anytime we get a call like this, we take it to heart also."
A cause has not yet been determined and remains under investigation by the State Fire Marshal and city fire investigators.
Grief counselors will be at New Britain High School Monday. Authorities have not released the names of the people killed in the fire.