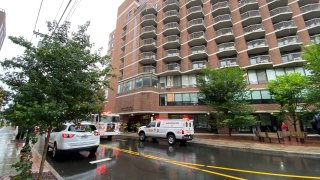 A structure fire at McQueeney Towers in New Haven is under investigation on Saturday afternoon and both elevators in the building are now out of service.
Fire officials said they responded to an apartment fire at McQueeney Towers Apartments on Orange Street around 12:20 p.m.
According to investigators, the fire happened on the 10th floor office space and was contained to that area. The floor was evacuated and nobody was injured.
Town officials said McQueeney Towers is home to senior citizens and people with disabilities and has 83 units. It is operated by the New Haven Housing Authority.
At this point, no residents have been displaced.
The building has two elevators. One of the elevators was out of service before the fire and the second one is now out of service because of the fire, town officials said.
Efforts to repair the elevators are underway, but depending on the success of the repairs, displacements may be necessary, they added. AMR will help with transportation if relocations are required.
New Haven Mayor Justin Elicker visited the scene and said in part, "I'm thankful that nobody was injured and we're working to ensure any displaced residents have the shelter and services they need."
It's unclear what may have started the fire.