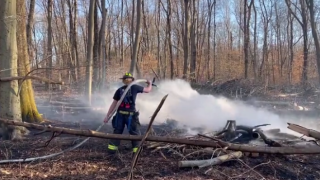 One person has been arrested after causing a brush fire in Baltic Saturday afternoon, according to fire officials.
Fire crews said a person was lighting small fires in the woods without a permit and the wind swept the fire, which caused it to expand.
Officials said the brush fire expanded over about three acres of land. The fire started at a high altitude in town with high wind gusts, according to fire officials.
At least five fire departments responded to the area of 95 Plain Hill Rd. Saturday afternoon.
Crews were at the scene for approximately three hours to put out the fire.
No injuries were reported and the fire has since been put out.