A custodian at Wintergreen Elementary in Hamden was injured while confronting an intruder at the school early Tuesday morning, according to police and school officials.
The custodian went to the school after an alarm went off around 5 a.m. and was confronted by a person "who illegally entered the building," according to a message Gary Highsmith, the superintendent of schools in Hamden, sent to parents.
Police responded to the school shortly before 6 a.m.
They say the custodian asked the person to leave and then the person assaulted him and stole his wallet and keys. The suspect then took off with the custodian's vehicle, police said.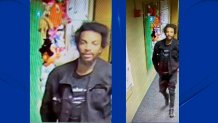 Police have released photos of the alleged intruder and they're actively looking for him.
The custodian was taken to the hospital to be treated for injuries to his face.
"It is my hope that person responsible for this senseless act of violence is apprehended and prosecuted to the fullest extent of the law," Highsmith said in his statement.