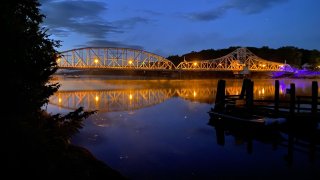 Work is has begun on the East Haddam Swing Bridge. The 110-year-old bridge is being upgraded with new equipment, structure repairs and a new sidewalk.
The state Department of Transportation said the changes will improve safety, access and operations.
"The steel will be strengthened, the mechanicals will be replaced and upgraded, and a new sidewalk will be built, increasing pedestrian and bicycle safety," state Department of Transportation Commissioner Joe Giulietti said. "We continue working closely with Haddam, East Haddam, the local Chamber of Commerce and area businesses to minimize disruptions and share information."
Officials broke ground on the project Friday morning. Several local and state officials were in attendance.
The upgrades being made aim to extend the service life of the bridge. It'll also provide a "safe crossing of the Connecticut River for vehicles and pedestrians traveling on Route 82," officials said.
Drivers are being advised that lane closures and detours will be in effect at times.
"Motorists are advised to use caution in work zones: slow down, keep a safe distance, and stay alert," DOT authorities said.
To learn more about the project, click here. You can also sign up for alerts and updates at their website.