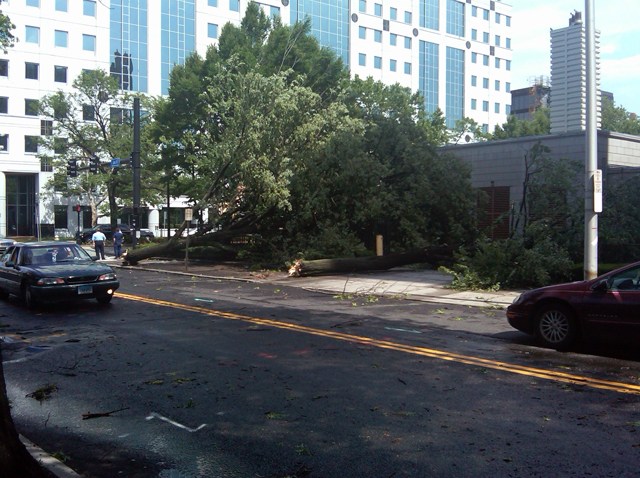 A tornado did in fact tear through Connecticut's largest city on Thursday, leaving behind severe damage.
"East Main Street just looks like Godzilla came and grabbed roofs and wires and cars and mixed them all together," Bridgeport Mayor Bill Finch said.
The storms ripped off roofs, caused nine buildings to partially collapse, toppled trees and shattered windows in parts of the state's largest city.
On Thursday, Finch issued a state of emergency after the quick-moving storm wreaked havoc. It was in effect until late Friday morning. He also issued a curfew that went into effect at 5:30 p.m. and was lifted just before 11 a.m. Officials said no one violated it.
On Friday, as residents deal with the damage, power remains out for more than 16,000 United Illuminating customers.
Fifty families were left homeless and hundreds of bricks shook loose from buildings, trees were split in half, cars were crushed cars and a billboard hung precariously several stories up over Main Street.
Nine buildings were partially or fully collapsed, including at least three that were brought to their foundations. Rescuers searched the rubble to ensure no one had been inside.
Of the 25 injuries reported, one person is reported in serious condition, Mayor Finch said on Friday.
Fire Chief Brian Rooney said the 25 people with non-life-threatening injuries were taken to hospitals, and Finch said most were released. The American Red Cross helped relocate 22 people.
"I've never seen a storm like this in my career. (It) looked like something you would see on television or the movies," he said.
Rooney called it a miracle there was no loss of life.
"Anybody that was in the path of that storm would have been in big trouble," he said.
The storm broke a large stained glass window at Calvary Temple Christian Center, across the street from Washington Park.
"Our building is 140 years old and I know offhand, it's going to cost somewhere between $25,000 and $50,000 to replace it," Bishop John Thompson said.
In the central Bridgeport neighborhood known as Hollow, a powerful wind gust took down massive trees, damaging homes and smashing cars. Fed Ex driver Rich Matos was on his delivery route when the storm blew through.
Kolbe Cathedral High School had adjourned for the year but administrators and prospective students were in the building when the damage happened, sending rain pouting into the building but causing no injuries.
Jacqueline Arroyo said she saw a black cloud and ran inside to her third-floor apartment, where a window exploded. Trees were blown so ferociously they appeared to be coming out of the ground, and people were screaming, she said.
"All the wind started coming inside the house. I heard 'boom, boom!"' she said. "It was so fast but terrifying."
A jail lost power, Finch said.
A Catholic high school, a museum dedicated to P.T. Barnum and several other buildings also had roof and window damage. Tree limbs and power lines blocked traffic on some roads in Bridgeport, a former industrial and manufacturing center of about 135,000 residents that has taken steps in recent years to revitalize downtown areas and waterfront properties.
Bridgeport has struggled with poverty and recently planted trees, one of many initiatives to revive Bridgeport. Finch estimated the storm destroyed hundreds of trees.
Edward Beardsley said the force of the wind sent him to the other end of his house.
"It was a noise I never heard before. … The noise -- it killed my ears. My two cats still won't come out from under the bed," he said. "Everything was pitch black and going in a circle down the road."
Winds that were part of a powerful storm gusted at 78 mph at Sikorsky Memorial Airport at Stratford and blew over some planes.
Sen. Christopher Dodd, D-Conn., said in a statement that he will work with local, state and federal officials to help Bridgeport and area towns obtain assistance.
At the height more than 24,000 United Illuminating customers lost power, and more 10,000 were in Bridgeport. U.I. says it doesn't expect to get all the power back on until sometime Friday.
The storms also prompted the Barnum Festival to cancel the Swedish Nightingales Jenny Lind concert scheduled for Thursday at the Playhouse On the Green.
Officials are coordinating schedules to find a date and time to reschedule.
If you have severe weather photos, send them to us here.
Copyright AP - Associated Press