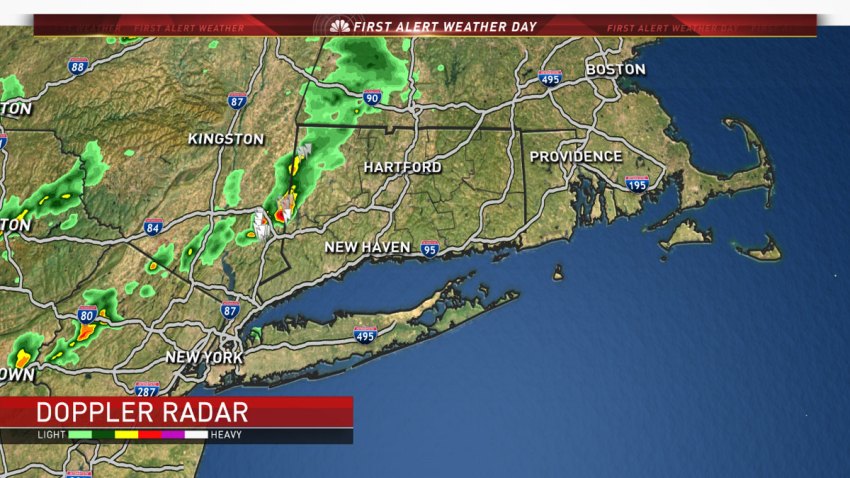 Another set of scattered storms is moving through the state Sunday evening. These are the latest in a series of pop-up storms that left damage in pockets across the state.
Severe thunderstorm warnings were issued for New Haven and Fairfield counties Sunday but have since been canceled.
Sunday has been another hazy, hot and humid day. The National Weather Service issued excessive heat warnings for Fairfield, Middlesex, New London and New Haven counties until 10 p.m. and Hartford county until 7 p.m.
The National Weather Service issues an excessive heat warning when there is potential for the heat index to reach or exceed 110 degrees in the next 12 to 24 hours.
Saturday brought hot weather and pop-up storms that left pockets of damage throughout the state.
At 10:30 p.m. Saturday, more than 18,000 Eversource and United Illuminating customers were in the dark. Sunday morning that number was down to around 2,500.
Severe thunderstorm warnings were issued for parts of Hartford, New Haven, Litchfield and Fairfield counties earlier on Saturday night. The storms brought vivid lightning, high winds and heavy rain around 9 p.m.
Storms moved into the state from west to east just before 9 p.m. The storms brought lightning, heavy rain and strong winds.
In Hartford, the Rascal Flatts concert was cut short and the Xfinity Theatre was evacuated as the storms blew in over the venue.
Earlier Saturday, excessive heat warnings and air quality alerts were issued for much of the state, as well as a severe thunderstorm warning for Litchfield county.
Sunday will also be hot and humid with temperatures in the upper 80s and low 90s, and the heat index creeping up to around 105. There will continue to be a be a chance for showers and pop-up thunderstorms throughout the day.
Monday into Tuesday will bring a break in the heat before a new system moves into the region Wednesday into Thursday. Temperatures will be more seasonable with afternoon highs ranging from the upper 70s to mid-80s.