Thousands of people are in New Haven today for the in-person Faxon Law New Haven Road Race.
The streets in New Haven were filled with more than 3,000 runners.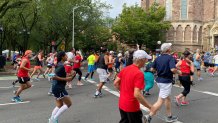 "It is great to be back in person," Frank Alvarado, Vice President of the Faxon Law New Haven Road Race, said. "This is, I think the first major event here in New Haven since the pandemic started."
Last year, the road race was virtual because of the COVID-19 pandemic and around 800 runners participated.
This year, organizers have put several protocols in place to ensure everyone's safety amd that included capping the capacity to 60% or 4,500 runners.  
"There's no bleachers," Alvarado said. "Spectators are obviously welcome, but we're asking spectators and runners after they finish running to wear their mask on the New Haven Green. We're asking people to social distance as much as they can."
Runners who woke up feeling sick or with flu-like symptoms were encouraged to stay home and have the option to defer to next year's race.
Family and friends lined the street in support of their loved ones.
Crystal Coleman ran her very first 5K.
Her son held a handmade sign that read, "My moms running for my aunt! Go mom!"
Her sister, niece, daughter, husband and father were all coming to support her.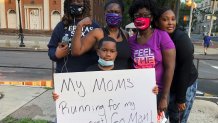 "I decided to run because my sister cannot run so I am taking her place," Coleman said.
Runners were also expected to wear a mask unless they are eating, drinking or running.
All the races began and ended on the New Haven Green. The kids' run kicked off at 8:10 a.m. and the 5K, 20K and half-marathon began at 8:30 a.m.