Temperatures will soar into the 50s for several days on end starting Sunday, and no major snowstorms are in the extended forecast.
A few snow showers moved through the state today and put down a dusting on some grassy surfaces, including in New Milford.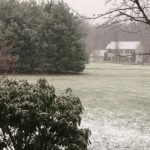 Most of the snow fell between 11 a.m. and 3 p.m.
This weekend will be great for snow sports at the local ski areas.
Saturday features a mix of sunshine and clouds with temperatures near 40.
Sunday will be warmer, near 50 degrees, with a blend of sunshine and clouds.
There can be a shower on Monday, with temperatures in the lower 50s.
The weather drys out on Tuesday with clouds and sunshine mixed. Highs will be near 50.
A wind-driven rain storm arrives Wednesday, especially in the afternoon and evening. Temperatures are expected to be well into the 50s.
Dry weather returns again on Thursday when it will be cooler, in the lower and middle 40s.