West Haven Fire officials and the state's fire marshal are investigating what caused a deadly fire on Savin Avenue early Saturday evening.
One person is dead as a result of the fire that began on the first floor of an apartment complex, and two others were taken to the hospital.
Investigators said the apartment building at 711 Savin Ave. is heavily populated by elderly residents. So, when a fire broke out, the challenges were significant.
"Most of the people need help walking and getting out so it was a great challenge," said West Haven Fire Chief James O'Brien.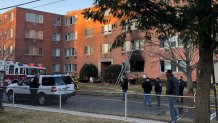 O'Brien said two people were taken to a nearby hospital and are being treated for smoke inhalation. The person living in the apartment where the fire started did not survive.
One neighbor said she knew the victim.
"She was an older lady who stayed to herself. [She] walked with a walker. So, I don't know what happened," said Dorie Ferguson.
Another neighbor said she heard the fire alarm in the woman's apartment directly next to hers.
"Black smoke was coming from her apartment. So, I closed the door, ran down the hallway, and told my neighbors to get out," said Marcie Davis-Josephs.
As smoke filled the hallways, Davis-Josephs then called the building's custodian. She said fire alarms are common in the building but stressed that this situation was different.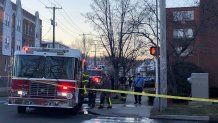 "I kept calling. I told his wife I said 'fire!' I said 'this one is serious, we have to call the fire department,'" said Davis-Josephs.
In the aftermath, dozens of residents sought respite at the First Congregational Church of West Haven. Inside, many received blankets and water, while the American Red Cross attended to their needs.
Investigators said they are still going through the apartment complex to see if some residents can return tonight. The mayor said if they can't, the Red Cross and the city will work to find shelter for those who've been displaced.
Authorities have not yet named the person who died.