What to Know
What: First Alert for heavy rain and scattered thunderstorms that could lead to minor flooding issues.
Where: Statewide
When: Heavy rain and thunderstorms continue through the afternoon. Most of the rain wraps up by 8 p.m.
A band of heavy rain, lightning, and small hail moved through the state earlier resulting in isolated flooding and hail up to the size of nickels in Higganum.
While the rain is over for tonight flooding is still expected on some rivers over the next couple days. We're forecasting the Housatonic and Connecticut Rivers to be near or even exceed flood stage by the end of the week and into this weekend.
A flood warning is in effect for the Connecticut River until further notice. The Connecticut River is expected to crest by Sunday morning. The forecasted crest level is 18.1 feet which will lead to minor flooding issues along the low lying river areas.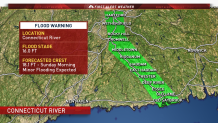 Parts of southeastern Connecticut are already experiencing some minor river flooding. A flood warning is in effect for the Pawcatuck River at Westerly until further notice. Some minor lowland flooding is occurring in parts of Stonington and North Stonington.
Looking further down the road we're expecting some warm weather to enter the state early next week. Inland high temperatures are forecasted to reach 70 degrees on Monday and into the middle to upper 70s by Tuesday.
Temperatures along the shoreline will run around 10 degrees cooler as a result of the cold Long Island Sound water temperature.