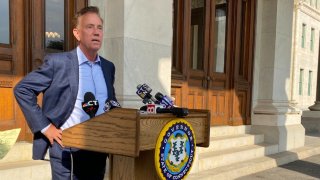 The governor has expanded the Connecticut Youth Employment Program, a program that employs youth across the state year-round at community-based agencies.
Gov. Ned Lamont said additional youths this year will be able to benefit from the expansion of the program and additional $2 million will raise the investment to $7.7 million to support the program with services like transportation, food support, and other items that will decrease barriers to participation.
The governor said the investment comes from Connecticut's portion of the federal Coronavirus Aid, Relief, and Economic Security Act and it is in addition to the $5 million the state previously allocated for the program.
"The Youth Employment Program helps our young people gain employment during this difficult time and experience the working world," Lamont said in a statement. "That's a win, not only for our economy but our future workforce, young jobseekers, and businesses, as well. Each year through this program, hundreds of businesses in our state get thousands of hours of subsidized work and the chance to mentor or coach tomorrow's leaders. Our youth employment programs are an excellent way to start the next generation of workers on a meaningful career path, while also putting dollars in their pockets. I want to thank Connecticut's Congressional Delegation for their support of this funding to states during this critical time, particularly for young people."
The governor's office said additional funding will provide mental health trainings for youth workers and case managers; and expand support services like transportation and food assistance. The program will expand youth peer mentors, youth outreach, and employer engagement specialists to remove barriers to participation – especially for marginalized youth – and build in equity and inclusion.